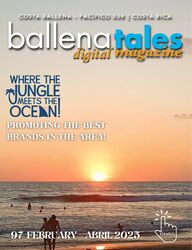 Return to flip book view
Costa Rica Free Magazine
Page 1
Page 2
Page 3
Page 4
Page 5
CONNECT GROUP 2010, S.A. 05 - Editorial 04 - How to heal your heart-body-mind -Karolina M. 07 - Directory 09 - Does saying Pura Vida - Rosemary Macgregor 11 - A lifestyle of sewing and surfing! - Allison Burns 15 - Impact of Nature on Human Health - Manuela Siegfried 17 BARU 17 - Never Shake Hands with a Sloth- Jack Ewing 19 -The Chirripo Valley - Luis Navarro 21 -Capturing the Essence - Brad Dean 23 DOMINICAL 23 - Pura Vida Dominical - Trevor Brown 24 -Dominical Map 26 - Tide Charts 29 - Stay Safe in Costa Ballena - Greg Gordon 31 - Ecoferia Dominical - Keyna AC 33 UVITA 33 - Introduction Uvita 36 - Uvita Map 37 - Guardians of the Osa - Brad Dean 39 - Where to Eat? 42 - The Chef Corner - Chef Adrian Soto 43 - Travelling with Kids - Cate Gilmour 45 - Bee Guardians - Carlos and Heather 47 - How to Buil your House and not die- Jose Guillen 51 - Uvita Community Library - Sue Hains 53 - Lost in Paradise - Marie Kasseroler 55 - Family Constellations - Michelle Macluf 57 - A successful local media - Carlos Leon 59 - How to lose a customer in only 3 months! - J. Guillen 61 - Costa Rica a diverse country - Tina Marisa Howitz 63 - Whale Medicine - Daily OM 65 - Mercury, the Planet of Light and Communication Astrologist Naika Gabriel 67 OJOCHAL 67 - Introduction Ojochal 69 - Ojochal Map 70 - Multiple Listing Service - Kevin Champagne 71 - Liquid Face Lift - Dr. Monica Alfaro 73 - Breaking the Cycle of Poverty. FSCO 71 -Microclimates in Costa Rica - Anexandra Luty
Page 6
COSTA RICA fREE MAGAZINE #90
Page 7
Marina Pez Velawww.TopNotchFishingCR.com- FULL DAY OFFSHORE FISHING- 3/4 DAYOFFSHORE FISHING- 1/2 DAY INSHORE FISHING- 1/2 DAY SNORKEL TOUR- 1/2 DAY SUNSET CRUISE- FULL DAY CAÑO ISLAND TOUR- 1/2 DAY INSHORE FISHI- 1/2 DAY SNORKEL TOUR-1/2 DAY SUNSET CRUISE-FULL DAY CAÑO ISLANDWHATSAPP OR DIRECT+011(506)7103-0530 +1(919)669-5873
Page 8
48 Does Saying Pura Vida Change Your Brain? When you ask a Tico, "Como le va?" they will invariably answer, "Pura Vida:'We Americans ask, "Hi, how are you" and we always get the answer, "Fine, thank you:' What's the difference? According to a measure of Happiness, the New Economics Foundation, in measuring how efficiently a country consumes ecological resources to support a given level of happiness, has picked Costa Rica to be number one. The United States is number 114. Translated, this index measures the number of years of a happy life based on satisfaction and life expectancy. Quite complicated, but this is determined by how much land one has or needs for one's source requirements and absorption of CO2 emissions from the products used. Costa Rica embodies a hap-py population that uses few natural resources. Getting back to Pura Vida. You can ask a Tico anytime about himself, and he will respond or end the conversation with Pura Vida. They seem to know something we don't comprehend. While the United States is based on consumerism, Tico's life is like a recent parable I encountered in which a father took his son on a trip to see how the poor people lived. Upon their return, the father asked the son what he had learned from the trip. The son responded: I saw that we had one dog, and they had four. We have a pool that reaches the middle of our garden, and they have a creek with no end. We have imported lanterns in our garden, and they have the stars at night. Our patio reaches the front yard, and they have the whole horizon. We have a small piece of land to live on, and they have fields that go beyond our sight. We have servants who serve us, but they serve others. We buy our food, but they grow theirs. We have walls around our property to protect us, and they have friends to protect them. AUTHOR: Rosemary Macgregor (t) Some people are grateful for what they have and do not worry about, striving for what they don't have. With the advent of Kafka and the changes in the Tico mentality, we see a shift in attitude. "Pura Vida" in San Jose is not said as often as in the countryside. That is another article or chapter on Social Change in Costa Rica. While reading about Yongey Mingyur Rimpoche, the Tibetan lama who has been dubbed "the happiest man in the world;' I quickly connected to the Tico and his solving all his problems at the moment by saying "Pura Vida:' Yongey Rimpoche has written a book on "Joyful Wisdom:' His background is one of anxiety and challenging times in a re-mote Himalayan village lacking most amenities. He suffered years of panic attacks and anxiety. Like the Ticos, Rinpoche has studied and practiced the art of well-being and is finally, in his life, at a point where he can "switch" from being irritated or upset, anxious about an issue to laughing, being happy, and instead enthusiastic. His brain has shifted from high activation in the right prefrontal lobe and amygdala, a region important for hypervigilance typical of those under stress, to increased activation of the left prefrontal cortex, the upbeat, positive, engaging, enthusiastic, and energetic side of the brain. I say "Switch" because, with years of practice, a strengthening or increasing neural pathways can take place, overriding and inhibiting messages from the amygdala that drive disturbing emotions. With practice, this switch can be a conscious choice, an ability to override a negative. Is this what happens with years and years of conditioning in the Tico, who very much lives in his left prefrontal "happy" cortex, smiling and repeating many times a daily his mantra, "Pura Vida:'
Page 9
Page 10
COSTA RICA fREE MAGAZINE #90Traveling has been my passion for several years, whichIt allows me to get out of my comfort zone and connect with people while learning about their cultures. When the COVID restrictions were enacted in the US, I used that time to reassess my priorities and began researching travel to Mexico and possibly further south with no destination in mind.I implemented several changes, including purchasing a 4X4 truck and building it for a living, exploring the Pacific Northwest for several months, and camping alone in the wilderness for days while working on sewing projects. These experiences changed the way I thought about the possessions and philosophies I clung to. Letting go of most of these was hard, but it helped me focus on starting this journey.In May of 2022, I packed up my truck and drove south from Oregon to Baja California. I spent the summer living in Baja Sur, learning to surf and creating cool pieces.Some people commissioned me to do some work and I sold some items, which allowed me to realistically consider a lifestyle of sewing and surfing.Leaving Baja, I took a ferry to mainland Mexico. I lived in Sayulita for about a month where I could source damaged outdoor gear from the locals and started making pieces that were functional for tropical climates. From there I drove along the Pacific coast of Mexico, visiting surf breaks and meeting people who shared their stories about driving in Central America.As I was driving to Guatemala, the reality of entering CA4 is a moment I will cherish for a long time. I accepted being uncomfortable and exceeded my expectations, I have never been so proud of myself.I spent a few weeks exploring Guatemala, learning about indigenous textiles, exploring Lake Atitlán, and spending a few days in Antigua. I continued on to El Salvador and spent a few months surfing and sewing in a small town. I learned a lot about the resilience of Salvadorans and fell in love with how welcoming everyone was.Next, I drove through Honduras and into northern Nicaragua, where I spent almost two months in the water connecting with local and traveling surfers. The community became a family to me and my time with them will remain in my heart forever. Since I arrived in Costa Rica, especially in Bahía de Ballena, I have felt welcomed by all the people I have had the pleasure of meeting. I stay near the Marino Ballena National Park, one of the most impressive tropical beaches I have visited. Walking on the beach, listening to the wildlife and observing the landscape of the jungle and the mountains is impressive. Surfing at sunset in Playa Chaman are memories that I will keep forever. As for local events, the Mercado de Bahía Ballena is perfect for meeting local vendors, hearing their stories, and learning about the history of this area. I was blown away by the beauty of the artists' pieces and how the flora and fauna inspire their work.My trip is ending at this point, and I think it's extraordinary that Costa Rica is the final destination. I am looking forward to exploring more of the nearby beaches and waterfalls and learning more about this community.
Page 11
Page 12
COSTA RICA fREE MAGAZINE #90
Page 13
Page 14
The impact of Nature on Human Health Manuela Siegfried Certified Forest Therapy Facilitator in Costa Rica was born In Costa Rica, daughter of an adventurous biologist who taught me from a very young age to be with nature, to marvel and be amazed by the simplest and smallest things, to feel at home in the forest, that all beings are part of a whole. The love of nature never disappeared but life brought me down paths that perhaps took me a bit away from that close relationship with the woods. However, it remained a safe space for me, a refuge, an oasis of peace and clarity. When my father died, began to suffer from severe panic and anxiety attacks; my instinctive reaction was always to go out in the garden, with the trees, in the fresh air, with my dogs. It was the only place that calmed me down. Life took many turns and one day I came across the concept of forest bathing or forest therapy, a practice inspired by the Japanese concept of Shinrin Yoku: a slow walk where we focus on awakening the senses and lowering the pace in order to be with nature In a different way, giving us the space and permIssIon to do nothing in particular, to not have to achieve any goal. In the early 1980s there was a health crisis in Japan due to high rates of stress. As a result, there was an increase in autoimmune diseases and cancer. The government initiated a series of studies in which the central question was always: what is the impact of nature on human health? The results were very interesting. They found that being in nature slowly and consciously not only reduces stress hormones significantly, but also activates the functioning of the immune system and has beneficial effects on the cardiovascular system. In addition, they found a significant increase in concentration and creativity. We live in a society that rewards us when we are efficient and productive. The pace of life we lead is too fast and we are all the time in "doing mode", giving us little (or no) space to stop and allow us to simply "be" without having to be doing something specific. This imbalance, where rest is almost frowned upon, generates a state of chronic stress in people. Added to this Is a lifestyle that is mostly spent in front of screens, inside buildings and less and less time outside. We have spent more than 99. 9% of our evolutionary time in natural environments and that is where we feel comfortable.
Page 15
Page 16
COSTA RICA fREE MAGAZINE #90
Page 17
Page 18
The C hir ripo V alleyFrom the imposing blue mountains and the crystal-clear waters surrounding them, the Chirripó Valley offers residents and visitors an experience full of peace, tranquility, beautiful views, and a direct connection with nature.Just ten kilometers from the center of San Isidro, Pérez Zeledón, the Rivas district is geographically divided into three sectors: Buena Vista, Central, and Chirripó sectors, the latter formed by the communities of San Gerardo, Canaán, Chimirol, Herradura, Los Angeles, Guadalupe, San Francisco, Talari, San José and Monterrey. The area has been characterized as a route of handmade products made by enterprising and struggling people; for this reason, many different attractions for children and adults are offered.Walking through this place recharges you with good energy and happiness, and it is also a gift for the soul to appreciate such beautiful views. The diversity in attractions is fascinating. You can enjoy from the newly opened Butterfly Kingdom, fresh trout, hot springs, Swiss cheeses, chocolate factory, to delicious artisan bread. Restaurants offer unique cuisine, hotels, trails, and birdwatching. Of course, without neglecting the main attraction of the area, the famous Chirripó Hill.With 3820 meters high, this is the highest and most beautiful mountain in Costa Rica. Flora and fauna embrace it every kilometer. It is a place to find oneself and demonstrate mental and physical strength. It is a constant challenge while taking step after step to reach the maximum height, and an unbelievable experience. Words are not enough to describe so much beauty, and experimentation is the only way to explain it.Author: Luis Navarro For this and many other reasons, the Chirripó Valley should be an almost obligatory visit for all Costa Ricans and foreigners who visit the country attracted by the biodiversity and tranquility of the mountains.COS TA R ICA fR E E MAGAZINE #90
Page 19
Page 20
CAPTURING THE ESSENCEOF CULTURE AND COMMUNITY ON THE COASTWhether on land, undersea, or in the air, photographer Brad Dean will likelybe found in full focus behind the lens of his camera. Having immigrated to the Southern Pacific Coast of Costa Rica in 2020 this veteran photographer of nearly 20 years has found an endless supply of inspiration and subject matter in this rich and sacred coast that he now calls home.With a deeply extensive breadth of subject matter to choose from with long, far-reaching coastlines, deep sea marine life, ceremonial totems and practices, and beyond, there is no shortage of beauty to discover and capture in this diverse and beautiful area of the world. And in addition to the endless natural beauty that exists here, there is also a supportive surplus of unique and interesting people here. Documenting their journeys and practices opens up even more potential inspiration.COSTA RICA fREE MAGAZINE #90The diversity of ecosystems, landscapes, and climates provide many wildly different settings and themes for Brad tocapture. "One of the many exciting things about shooting in this area is the fact that you could be working with miles and miles of coastline and framing the most interesting winding shapes that stretch as far as the eye can see, but you can also be capturing a whole universe of detail and life in something the size of a postage stamp; and both are equally unique and dynamic."Within our beautiful community of Costa Ballena we have a diverse cross-section of Tico citizens, veteran immigrants who have been here for decades, new transplants to the community, as well as a constant revolving door of tourists that make up this beautiful social fabric in the area. "Not only is the landscape constantly changing and evolving, but the culture and people of this area are also constantly changing. This presents a truly wonderful opportunity to document the historical evidence of the area, as well as the progress and evolution that is occurring at a uniquely progressive rate." With this beautifully unique, diverse, and ever-changing population, Brad is sure to have many interesting and rewarding moments to capture for many years to come.Operating under the name Westview Studio, you can regularly find Brad's work online and in print with publications such as our own Ballena Tales magazine, Costa Rica Life & Style magazine, and international luxury real estate magazine Haute Residence, among others.Whether it's his artistic rendering of our stunning coral reefs, courageous and dynamic surfing community, our attractive tourists living their best lives, or the infinitely diverse landscapes and wildlife in the area, we can't wait to see what he shares next. .
Page 21
7westviewstudio.com@westviewstudiocr506 8961 8564
Page 22
DOMI N I CALThe Good Life – All in a Few Hundred MetersAUTHOR: COSTA RICA fREE MAGAZINE #90
Page 23
Page 24
Page 25
Page 26
Page 27
Page 28
COSTA RICA fREE MAGAZINE #90
Page 29
Page 30
18 ECOFERIA DOMIN IC AL AUTHOR: KEYNA AC For more than 1000 years, farmers' markets have ben a fundamental element of civilization. In most cases, they are the heart of each community. A great place to share, connect, and exchange ideas with our community. Even more importantly, they are the ideal place to meet the people who produce the food we consume. If you think about it, what's more important than knowing the person who provides the food you nourish the body with? In a time when health is more important than ever, t is wonderful that we can count on a community of loving producers committed to offering the healthiest, most delicious products possible. In the Southern Pacific zone, we are blessed to have the country's best farms and organic producers. Sadly, obtaining organic food is difficult in most parts of Costa Rica, something that perhaps not many of us are aware of. This provides us the opportunity to create healthy and happy families is a blessing that we cannot pass up. Let's also not overlook the importance of upporting the local economy every day, a crucial factor for our villages to prosper. Be part of this change wherever you go. For now, we leave you here with an i nvitation to visit us every Friday at the Eco Feria Dominica! at Playa Dominica!, or to visit our website, where you will find what you need to stay beautiful and full of life.
Page 31
Page 32
U V I TACosta Ballena, Costa RicaCOSTA RICA fREE MAGAZINE #90Uvita en Costa Ballena, Pacífico Sur, Costa Rica, se está desarrollando a pasos agigantados. Esta comunidad multicultural se ha convertido en un importante centro comercial y de negocios en medio de los más bellos paisajes.Encontrará tours únicos, sofisticados restaurantes gourmet y acogedores comedores con comida típica, hoteles con todas las facilidades, cabañas y eco-lodges con impresionantes vistas al Océano Pacífico, así como bancos, supermercado, ferretería, farmacias, talleres de reparación de automóviles. , centros de información, salones de belleza e inmobiliarias, una vez que se instale en el lugar de su elección; ¿Qué planeas hacer con tanto sol y belleza tropical? ¡Te sugerimos que explores!Visite el Parque Nacional Marino Ballena, la Famosa La Cola de Ballena se encuentra en Punta Uvita con una longitud de aproximadamente 700 metros y un ancho de 820 metros; es el tercer banco de arena más grande del mundo. durante la marea baja, puedes caminar hasta el finalForeign tourists pay $6 to enter the park and national visitors pay $2 (cash is not accepted). Save your receipt because you can use it the same day to visit the beaches of Colonia and Ballena further south.Take a four-hour kayak tour in the national park, you can paddle, swim and snorkel in the coral reef, walk on the whale's tail and delve into the mysterious world of mangroves in Bahia. You can experience all the different ecosystems that this unique marine park has to offer in one seamless tour.Excellent beaches for surfing are Hermosa, Chaman and Ventanas. One surfer said, "once you've surfed Playa Chaman, you can never leave Uvita." That is what happened to him and so many others. The Wednesday and Saturday mornings, visit the farmers' market - it's the gathering place for the locals. If you are an avid reader, visit UCL. Uvita second-hand bookstore next to the Tracopa bus stop.
Page 33
FINE HOME FURNISHINGSRECHE RCHÉ is located on the C ostanera, just 4 kilometers South of Downtown Ojochal, before the One Lane bridge in C oronado.+ 506 2102 9069blake@puravidaimports.com jerry@puravidaimports.comUnique Furniture& Home DécorExceptional QualityStunning ArtRECHERCHÉRECHERCHÉ
Page 34
Page 35
Page 36
PHOTO: BRAD DEANAUTHOR/PHOTO: Brad DeanCOSTA RICA fREE MAGAZINE #90We are all temporary defenders, protectors, and guardians of this sacred land we call home, whether we know it or not. And with that tremendous responsibility, it's important to understand what that means in our everyday lives.For those of us who have received custody of this land as a birthright, and for those of us who are guests here, BahÍa Ballena is located at the gateway to one of the most beautiful and biodiverse areas in the world. It is a region that has a profound effect on the environment, balances the world, and demands our protection. Ever-present challenges threaten its existence and its delicate balance, and it is up to us to acknowledge these challenges and do what we can to support those in our community who have made a deep and lasting commitment to protect this great asset for our overall and lasting health. . existence as a planet. One of those big challenges we face is the rapid and rampant urban growth that is actively taking over the area. At this historic moment we can easily see the effects that irresponsible development has already had on our communities. Nationals are being shut out of their longstanding neighborhoods and we as a community are rapidly losing the spirit of the culture that drew us to this region.Now we cannot all be expected to know everything that is happening in the area and have the time and ability to push back against irresponsible development.Fortunately, there is a growing swath of hard-working, dedicated, and highly organized Guardians who are already active in their quest to protect the limited resources we have available to us in this critically important area of the world, and all they need is a little support. . of our community to help them continue on their path to reclaiming the healthy future of this precious region and, ultimately, the overall health and well-being of our delicate planet.It is said that we should all fear bad people, but there is another type of evil that we should fear more, and that is the indifference of good people. there are a tremendous number of considerate, kind and "good" people in our community. This is a call to all these people to denounce indifference and commit more to beauty.Guardians who so desperately need our support. Where do we find these wonderful Guardians of Osa? They are all around us. Check local message boards, ask a friend, attend a community meeting, and introduce yourself to the people leading change. Even if all you have to give in the moment is a pat on the back and a positive word, these are the things that help keep your spirits up and the momentum to keep going. I can tell you with complete confidence that any kind words of encouragement and support will be welcomed with open arms.
Page 37
Page 38
Page 39
W H E R E T O E A TFrench CaféFrench Savoir FaireOpen Everyday 7 AM - 9 PMPlaza Bahia Moana Calle Ballena Bahia 200m West ofCoastal HighwayTel: 2201 8253Fusion FoodSeafood, Fish, /Meat and ChickenBreakfast, Lunch and DinnerThursday Fresh Tuna SpecialWeekends BB Q - Live MusicSan Martin Norte - 7 km South DominicalTel: 2700 5440 Whatsapp: 8448 3352Food & BitesCoffee & DrinksPastries & DessertsOpen from Tues day to S aturday from8 :0 0 a.m. to 4:0 0 p.m. K ia Ora House 5 0 m north of the Dominic alitosc hool, Dominic a lito, Osa , P untarena s. Whatsapp: +506 8319 5991La ColoniaSeafood specialitiesBreakfast, Lunch and Dinner6 AM - 9:30 PMHotel El Tecal, Playa Colonia, Uvita Tel: 2102 0082Whatsapp: 8301 4822Ballena BistroFresh Fusion DishesVegan and Gluten Free OptionsTuesday to Sunday 11 AM - 4 PMFriday and Saturday 11 AM - 8 PM6km South of Uvita next to Ballena BeachTel: 2786 5407
Page 40
Citrus R estaurante + TerrazaCreative CuisineMonday to Saturday: 2 PM - 10 PM Sunday closedPlaza Tangara OjochalTel: 2786 5175Pancito CaféFrench Bakery and RestaurantBreakfast and LunchVegan and Vegetarian optionsEveryday 7 AM - 6 PMNew Location at Plaza Ventanas Tel: 8729 4115W H E R E T O E A TPura Vida B ar - R estaurantOcean View and SunsetI nternational with Austrian Touch Breakfast, Lunch,Dinner and CocktailbarOpen Everyday 7 AM - 9 PMPlease Reserve for DinnerKM 169 Hotel Cristal BallenaTel: 2786 5367 Whatsapp: 8390 6863 VI LLA LEONOR at PLAYA BALLENASeafood, Casados PastasFresh TunaLunch, reserve for DinnerOpen: 11 AM - Closed VariableBetween Uvita & Ojochal Km 170Tel: 2786 5380 Whatsapp: 8390 0130Wednesday closedCastillo's K itchenI nternational CuisineSushi and Wine B arOpen Everyday 12 PM - 9 PMCalle Perezoso, 200m Southof Ojochal Tel: 8542 3232
Page 41
COSTA RICA fREE MAGAZINE #90
Page 42
COSTA RICA fREE MAGAZNE #90
Page 43
Page 44
COSTA RICA fREE MAGAZNE #90
Page 45
Page 46
COSTA RICA fREE MAGAZNE #90
Page 47
Page 48
Price per person: $6 , special prices for groups and residentsGroup: minimum 01 - maximum 18Start time: 8:30 AM - Duration: 3 hoursPrice includes: safe parking, bilingual guide, fruit, water, snorkel equipment, park admission and a lot of fun.Description: Leaves from Punta Uvita, Marino Ballena National P ark. Travel to the Whale's Tail, Isla Ballena, and the caves at Ventanas Beach for snorkeling and sightseeing. Wath whales, dolphins, turtles, and rays.Price per person: $55 - Group: minimum 04, maximum 12Start time: according to tides - Duration: 2 hoursPrice includes: free pickup, tropical fruit, water, bilingual guide, park fee. Description: Marino Ballena National Park harbors a lot of wildlife and the tour spend the rest of the day enjoying the beauties of the park.Price per person: $1 - Group: minimum 01, maximum 08Start time: 07:00 AM - Duration: F ull DayPrice includes: park admission, lunch and snacks, water, and soft drinks - pick up available for an extra charge.Description: tour departs from Sierpe Village. During the trip you can observe the wildlife of the mangroves and swamps of the Sierpe Riv er delta. At the the jungle and river mouth to wath wildlife and plants. Snorkeling on request.Price per person: $1 5 - Group: minimum 01 maximum 18Start time: 6:30 AM - Duration: F ull DayPrice includes: Biological Reserve admission fee, sandwiches, snacks, lunch, water, soft drinks , bilingual guide, humpback whale watching in season. De -scription: Tour departs from the village of Sierpe thr ough the swamps and mangroves of the Sierpe riv er delta. The boat will take you snorkeling on the world!Price per person: $1 - Group: minimum 02, maximum 06Start time: 07:00 AM - Duration: F ull TimePrice includes: lunch and snacks, water, and soft drinks - pick up available for an extra charge.Description: Tour departs from Uvita or Sierpe exploring the mangroves and sw amps of the Sierpe riv er delta. Two dives , two tanks at the world-famous classes av ailable at various prices. Packages av ailable for multi-day dives or Price per person: $95 - Group: minimum 04, maximum 09Start time: 6:30 am or 8:00 am - Duration: 5 to 9 hoursPrice includes: all necessary equipment, bilingual guide.Description: Pick your level and enjoy the ride! Savegre River: 5 hours. class 2 and 3, great for beginners. Swim at a waterfall, light lunch on the river. Then, another hour of rafting. lunch, followed by two more hours of rafting!Enjo y O S ACOSTA RICA fREE MAGAZINE #90
Page 49
Price per person : $ 5 - Group: minimum 01, maximum 40Start time: 8:00 am, 11:00 am, and 2:00 pm - Duration: 2 hoursPrice includes: all equipment, bilingual guide, transportation available for an extra charge.with a short tour of the rain forest, spotting birds and animals. Then, up to -tops, across ravines, and mountains!Price per person: $5 - Group: minimum 02, maximum 08Start time: upon request - Duration: 3 hoursPrice includes: friendly tour guide, saddled horsesDescription: Take horseback riding through the mountains, jungles, or beaches! S tart early for birdwatching, monkeys, and other wildlife - stop at a remote waterf all for a swim or star t late for a sunse t ride on the beach! Price per person: $ . special price for groups - Group: min. 02, max. 12Start time: 3:00PM - Duration: 3 hoursPrice includes: a bilingual guide, fruit, water - pick up available for an extra charge.Description: Sierpe Riv er day trip or sunse t cruise thr ough the sw amps and mangroves - watch the jungle around you come alive with the growing perfect day! Price per person: $55 - Group: minimum 02, maximum 08Start time: 5:00 PM - Duration: 3 hoursPrice includes: a specialized bilingual guide, snack, water, and juice - pick up available for an extra charge. thgin a gnirud serutaerc eht revocsid neht ,tesnus eht hctaW :noitpircseDhike in the jungle: night plants, spiders, frogs, and snakes! Your specialized guide will keep you safe and sound exploring the rain forest!Price per person: $35. Transportation available for an extra charge.Group: minimum 01, maximum 20Start time: 7:30 am to 4:30 pm – Duration: according to your preferencePrice includes: Trolley ride from the reception to the nature park and hiking trails, admission fee, parking, bathrooms, showers, changing rooms, hiking trails through a primary rain forest. beautiful, privately owned nature preserve with clean, modern facilities and the beautiful natural pool!Price: Half Day $575 – Full Day $950 - Group: minimum 02, maximum 06Start time: 7:00 AM - Duration: 4 - 7 hoursPrice includes: all necessary equipment, park admittance fee, water, snacks, fruit, beverages, lunch (full day option) bilingual guide.either oshore or inshore because of our generally calm sea conditions.Enjo y O S A
Page 50
COSTA RICA fREE MAGAZNE #90
Page 51
Page 52
COSTA RICA fREE MAGAZNE #90
Page 53
Page 54
Family Constellations: The way of the soul Author:Michelle Macluf We live our lives without knowing where specific fears, pains, discomforts, compulsive behaviors, or deep nostalgia come from that accompany us in our day-to-day lives. What if I told you that the root of many of the situations we carry comes from our ancestors? We don't have to go far back. The answer is to clean our bond with Mom and Dad by working with the link that connects us to them at the soul level. In this way, we tend to the look with which we receive life and how we present ourselves.When we recognize our family tree's history, we identify patterns of behavior or situations left open in the past. As representatives of our family system members, they seek that we give it closure. History is doomed to repeat itself until we give it its place until we consider the most profound feelings that inhabit us. Through a process of Family Constellations, we can do it lovingly, freeing ourselves from the role of victims and making ourselves responsible for our lives through what is known as movements of the spirit and healing phrases.The movements we perform are exercises that allow us to recognize our history and accept our emotions. Then we can return them to the member of our family system to whom it corresponds with a phrase's help. This phrase works within the psyche to free the person with compassion and respect for themselves, their history, and their entire family tree.These exercises are performed based on "archetypal wounds." As humanity, we are evolving together, meaning that society is undergoing collective changes that affect us all, although we carry out this journey individually. The exercises proposed in the workshop focus on regaining the strength of birth and recovering the maternal bond through breastfeeding. It is about working on issues of lack of will and compulsive behaviors. Let's recover the path of the soul together!COSTA RICA fREE MAGAZNE #90
Page 55
Page 56
AUTHOR: COSTA RICA fREE MAGAZNE #90
Page 57
NEW ADDRESS: UVITANEXT TO SIBU
Page 58
COSTA RICA fREE MAGAZNE #90
Page 59
Page 60
COSTA RICA fREE MAGAZNE #90
Page 61
Page 62
COSTA RICA fREE MAGAZNE #90
Page 63
Page 64
COSTA RICA fREE MAGAZNE #90
Page 65
Page 66
COSTA RICA fREE MAGAZNE #90
Page 67
IAuthor : Dagmar Reinhard
Page 68
COSTA RICA fREE MAGAZNE #90
Page 69
Page 70
COSTA RICA fREE MAGAZNE #90
Page 71
• PAP smears • General Medicine Bloodwork • Minor surgical procedures • Scheduled Plastic Surgery • Consultation • Botulinum toxin • Dermal Fillers • Cheminal Peels • Dermapen • Plasmage • PRP (Platelet Rich Plasma) • Skin checks • Skin Tightening • Laser Hair RemovalAppointments WA +(506) 8833 6431 dralfaro@bahiaballenadoctors.com BahiaBallenaDoctors.com Plaza Ventanas - Ojochal!"#$"%!"&&'("%)*+,*-.!"#$%&'()#*+,-#".Dr. Mónica Alfaro
Page 72
COSTA RICA fREE MAGAZNE #90
Page 73
As ociacion C entro De ApoyoPara L as Familias De OjochalFamily S upport Center Of OjochalAL L FUN DS RAISE D GO TO HEL P L OC AL FAM IL IE S IN NEE DOPE NING HOUR S :TUE S DAYS 9 AM - 12 PMTHUR S DAYS 12 PM - 3 PML AC ATION : On c alle Soluna, 15 0m North of C alle Principal, in Ojoc halwww.fs cojoc hal.orgF S C O THR IF T S T OR E S L A MANITA & L A B OUT IQUEContact:Professionals in relaxing, therapeutic, and sports massages. We bring relaxation to your home or office.ACCES S PARADI S EUvita WhatsApp: +506-8916- 1 880Renting a car with us is easy, and there are no hidden charges. Full coverage insurance included. Managed and administered by women.O u r s er v ice s:Home Nursing Care, Intravenous Medication Application,Wound Healing and Sutures, Elderly Care, Post-Surgical CareWe specialize in providing personalized health services. We are characterized by the professiona-lism and attitude of our collaborators with the sole purpose of achieving completely satisfied clients.M O O D D E P O R TE mailto:contact@mooddeporte.website +506 6104 5281Plaza Ventana OJOCHAL DE OSA 60501, PUNTARENAS63120615tel: +50 6 86 0 3 429 9@ logisticr x uv itaL ogistic R x U v itaOur company consists of receiving yourpackage and make it reach your hands, fromyour favorite digital website
Page 74
COSTA RICA fREE MAGAZNE #90
Page 75
Page 76