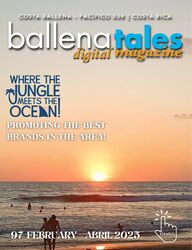 Return to flip book view
South Pacific Free Costa Rica Magazine
Page 1
ESPAÑOLP 52 Tilapia - La Cascada Discovering a Treasure
Page 2
Ballena Properties+(506) 2786 58011836 Acre farm with streams and primary jungle at the basin of Sierpe$2,850,000 USID 079-00997 Beautiful 2,487 m2 / 0.61 acre building lot on Calle Perezoso, Ojochal. Window Ocean View$180,000 USID 079-01165 Recently built pressure-treated Pine wood home within walking distance to the beach.$259,000 USID 079-00698Large 188 Acre Titled Drake Bay Property$2,500,000 USID 079-010434 Acres Lot W/ Ocean View Plantel on Calle Perezoso Ojochal $250,000 USID 079-00947Large Lot w/Mountain View Ready to Build. Legal Water Phase 11$95,000 USID 079-00723Oceanview Boutique Hotel and Two Homes in Uvita $995,000 USID 079-00626A River Runs Through It $88,000 USID 079-01090Las Dueñas Coffee Farm$699,000 USID 079-00953Nice at commercial / residential building lot on Calle Del Bosque, Ojochal$65,000USID 079-01079WLa Cima del Mundo Hotel.$1,495,000ID 079-01136Large 188 Acre Titled Drake Bay Property$2,500,000USID 079-01043
Page 3
Ballena Homes is a company that specializes in "Custom Home Construction". Included in ourcompetitive pricing are the services of specialist in home design, architectural adaptation of the chosendesign, non-compromising engineering to current code and a team of dedicated construction managers.The key of our success is quite simply, our Team. When you build with Ballena Homes you gain thebenefit of years of Costa Rica construction experience. Guaranteed quality materials - Guaranteed quality Construction -Guaranteed Pricing Ballena HomesEFFICIENT - EXPERIENCED - PROFESSIONAL/ Phone: 8856 9800Web Site: BallenaHomes.com / Email: Innovation@BallenaHomes.comCUSTOM HOME CONSTRUCTION
Page 4
"We have been investing for several years to rethink the value chain and make it sustainable, and this innovation is part of that commitment. Since coffee trees do not grow in cold regions like ours, they are inevitably transported over long distances," says Serge Picard, owner of Café William located in Canada. "Our investment in this innovative project will allow us to considerably reduce our carbon footprint and, along with our other projects, to eventually produce a zero-emission coffee, a rst in the coffee world," concludes Mr. Picard.SAILCARGO & COFFEESAILCARGO INC. is proud to be partnering with Café William to deliver the rst zero-emission sailing cargo ship, which will transport coffee beans from South America to Café William's roasting plant in Sherbrooke, Quebec. "This is a world premiere in the shipping industry. Ceiba is a sustainably built vessel that will sail 250 tons of cargo with zero emissions. When it goes into operation in 2023, it will be the world's largest active, clean ocean freight vessel," said Danielle Doggett, Founder and Chief Executive Ofcer of SAILCARGO INC.Ceiba is a three-masted traditional topsail schooner being built at the world's rst regenerative shipyard in Costa Rica. As the rst in a line of ships, Ceiba will have an auxiliary electric engine to maximize reliability and efciency. These electric engines will also use batteries regenerated by the ship's propellers when under sail.AUTHOR: JEREMY STARN
Page 5
Maritime transport is a crucial link in the production of coffee and contributes to the overwhelming emissions of the shipping industry. SAILCARGO INC's vision is to prove the value of clean shipping by promoting access to sustainable supply chains. The two companies believe that by leveraging Café William's market reach with the regenerative shipping model of Ceiba, it is possible to lead the way towards a zero-emission world. In 2021, the Embassy of Costa Rica located in Canada awarded SAILCARGO INC. with a Costa Rica - Canada 100 Years Commemorative Medal as a private company that further strengthens the excellent relations between the two countries. Mauricio Ortiz, Ambassador of Costa Rica in Canada, said that they gave the medal to SAILCARGO INC. for its quality of innovation, sustainable environmental concept, projection to the local community, and a global vision and mission. It was designed by the Embassy of Costa Rica and the graphic artist Sam Garcia and graphically represents the national symbols of both countries: the maple leaf for Canada and the purple guaria for Costa Rica.CEO and co-founder of SAILCARGO INC. Canada is currently one of Costa Rica's most important partners with whom it shares pillars of democracy, human rights, and respect for the environment. Danielle Dogget expressed the honor of having been considered for recognition of this type. She added that it motivates her to continue to generate a positive change in the world.
Page 6
LODGING1. Hacienda Barú 2. Hotel Cuna del AngelRESTAURANTS3. Pizza La Casita (Take-out Service)4. Hacienda Barú5. Cuna del Angel6. Scala 7. Sibu Café ACTIVITIES8. Nauyaca 9. Hacienda BarúSERVICES10. Dominical Surf School 11. Eco Feria 12. Pacic Coast Law 13. Blue Morpho 14. Body Revitalization InstituteLODGING49. Tangara Azul Boutique Hotel50. Hotel Diquis del Sur 51. Hotel El Castillo 52. Hotel Alma de OjochalRESTAURANTS53. Pancito Café54. Citrus Restaurant & Wine Bar55. El Castillo 56. Sud57. Bamboo RoomACTIVITIES58. Reserva Tortuga59. Lalo Tours Horseback RidingSERVICES60. Bahia Ballena Doctors 61. Ballena Legal Team 62. Plaza Ventanas 63. Century 21 & Ballena Properties 64. Ballena Homes65. Remax / We Sell Paradise 66. Farmacia & Macrobiotics Ibarra 67. Osa Tropical Properties DOMINICALOJOCHALLODGING15. Vista Ballena 16. Cristal Ballena17. Bungalows Ballena RESTAURANTS18. Beehive 19. Aroma Cocolico 20. The Dome 21. House of Ginger 22. Ballena Bistro 23. Pura Vida (Cristal Ballena) 24. Villas Leonor25. Moana Bahía Plaza26. Le French CaféSERVICES27. Osa Rides 28. My Design 29. Osa Property Management30. Iglesia La Costa 31. Ropa Americana Buena Voluntad 32. Correo de Uvita33. AAA Accounting34. Uvita Ink UVITA35. Tecno Soluciones H 36. Rincón de Uvita 37. Royal Palm 38. Mora & Valdéz 39. Farmacia Ibarra 40. RVA Engineer Roger Valverde41. Uvita Law Firm 42. Costatika Language School 43. Centro Llantero 44. Legal del Sur45. El Mercado 46. Ballena Tales47. Pointing Market48. Enjoy OSA BUSINESSDIRECTORY
Page 7
Page 8
EDITORIALDear Reader,Content #82Sail Cargo & Coffee / Jeremy Starn Bussiness Directory / Map . . . . . .Editorial . . . . . . . . . . .Plato Negro Ecology & Conservation / R. PleckerEnjoy OsaDirectoryFEATURED ARTICLE: . . . . . . .Tilapia – La Cascada – D. Reinhard040609101117524 South Pacic141821222426Tide Charts Armored mammals – Jack Ewing BRI – Body Revitalization Institute – Jürgen Müller The Locals – Ruby´s Palm Art – R&S Fergus John Deven – Vibrant Images – D. Reinhard The Green Iguana – Levin Sallamon 14 Dominical444648505456Non-Surgical Rejuvenation / Dra. Mónica AlfaroBiological Marine Corridor, a Hope Spot / F. GüellColorful Diamonds with Superpowers / L.Bayer New Years Resolution / Alexandra Luty Archealogical Discovery / Wendy Segura CalderónHappy New Year Fish Drake Bay / C. Willy Atencio 44 Ojochal2830333436384042Uvita´s Restaurant Diversity / Louisa Bayer Restaurant List Inactive Company Statement / Lic. Mauro Esquivel Soccer Lessons are Lessons for Life / L. Sallamon AWA.OlI The Enchanter of the Stones / D. CattanoDetox with Papaya Seeds – Susanna Kahr Film Entangled in Costa Rica is Out! / Vegan Pirates Running into 2022 / Chiara Koll28 Uvita46225234QUÉ SERÁ, SERÁ!
Page 9
DAGMAR REINHARD Editor in Chief(506) 8914 1568 / 2743 8778ballenatales@gmail.com Art & DesignPOINTING MARKETAÑÑESKA ARRIECHE ROONDIGITAL COORDINATORCARLOS LEONcarlos@ballenatales.comCONTRIBUTING WRITERS: PHOTOGRAPHY COVER PHOTO: Tilapia - La CascadaNEXT EDITION March 15th, 2022 Deadline February 5th, 2022EDITORIALDear Reader,anneska@ballenatales.comAlexandra LutyBRI Captain Willy Atencio Chiara KollDenisse CatanoDagmar Reinhard Dra. Monica AlfaroFlavio GüellJack Ewing Jeremy StarnLevin SallamonLouisa BayerMauro EsquivelRoel de Plecker Ruby & Steve Fergus Susanna Kahr Vegan PiratesWendy Segura CalderónBallena Tales PhotographyChiara KollConecat Innoceana John DevenLevin SallamonLouisa Bayer Museo Nacional de Costa Rica Roel de Plecker Vegan PiratesSailcargo Do you remember this beautiful song? The blue sky above our heads, the colors of the ever-changing nature, and the warm temperatures encourage us to move forward with a rm step towards a different future. It will be different, and it is up to us to create our own. And this is how we start each new day with the best of intentions: a new adventure, a challenge, a surprise.We suggest tours to experience the essence of the South Pacic, know the wonders of its parks, its marine, and underwater life, the mangroves, or the jungle of Costa Ballena at night. You can ride at sunset along the beach. You can dare to launch yourself into the void traveling at lightning speed through the crowns of trees, forgetting about the shock immediately as your attention is captivated by the breath-taking views over the valleys and the sea in the distance. Enjoy Osa will gladly help you organize your vacation in our paradise.After an excursion, you will always have a bear´s appetite, and our restaurants offer a wide variety. There is a tilapia restaurant a few kilometers south of Ojochal. Very picturesque, cool, in the middle of a well-kept nature and next to the sh ponds. Walking through a path covered with old trees, you reach the river and a waterfall. The waterfall pours its waters into different pools that invite you to take a dip. At the Tilapia La Cascada Restaurant, you will nd one of the tallest and oldest ceibos (Erythrina crista-galli) in the area. It is 204 years old and stands around 45 meters tall. Be sure to go; you will enjoy it very much; also the food is fresh and delicious.The South Pacic of Costa Rica offers art and culture, as well. The Costa Rican goldsmith Oli Valerio (Awa.Oli), who has traveled to more than 60 countries, presents his jewelry, precious works of art and tells us how he has nally found his paradise here. Ruby Fergus, a very creative weaver of materials from the palm, describes her life in Dominical.Two pre-Columbian spheres were found near the small town of Palmar on the banks of the Terraba river, an indication of the discovery of a new and important archaeological monument.At the end of January, the indigenous town of Curré, also on the banks of this majestic river, celebrates the Little Devil´s dance. This colorful event attracts many spectators from near and far. It is a unique occurrence in the South of Costa Rica that is celebrated from January 27th to 30st.Enjoy your stay; we wish you very delightful moments!QUÉ SERÁ, SERÁ!
Page 10
Costa Rica is home to 2 species of bushmasters, the Central American Bushmaster (Lachesis stenophrys), with a distribution from eastern Nicaragua to Central Panama, and the Black-headed Bushmaster (Lachesis melanocephala), of which the latter has the smallest distribution range of all Lachesis species. Therefore, our organization, named Plato Negro Ecology and Conservation, are making major efforts to study and protect this emblematic species from extinction.The Black-headed Bushmaster are the rarest species of bushmasters and can only be found in the central and southern Pacic region of Costa Rica, adding data of a few individuals found in Panama. The Spanish local name is Plato Negro meaning 'Black Plate', the scientic name was derived from the Greek Lachesis meaning 'the personalization of fate', melanos means 'black' and cephalo is 'head'. What makes bushmasters so special is that they are the only New World pitvipers that lay eggs, up to 13 eggs are laid in burrows and these are protected for about 3 months by the female.In 2015, our organization, was the rst that conducted a telemetry survey on the Black-headed Bushmaster, at the property of Ecoturistico La Tarde on the Osa peninsula. Like this we already had a glimpse on the natural history of this fantastic reptile, but more telemetry studies will be continued in the future. In our team we have some great American experts doing eld studies on reptiles as well as Costa Rican biologists. When I joined the project a life-time dream was starting to come true, it is one of the reasons I choose to come to Costa Rica, being part of the conservation of my favorite serpent along with studying its natural history. Involving local communities and landowners we try to dispel the myths about the infamous Plato Negro, because most of the people see them as large aggressive venomous snakes, but by sharing our experiences interacting with the species and involving locals in our research, these false accusations quickly change. Also we point out that this snake is part of their Costa Rican legacy, a rarity that should be protected before it goes extinct, along with so many other species in the world. Development is rising on our coastline and this means we sometimes have to access the primary forest this species inhabits, so confrontations might occur. Just respect your distance with the animal, try to make a photograph, because you just became one of the few lucky people on earth having seen this elusive species in the wild! Any information is welcome on sightings of this formidable snake species and you can contact us throughout our website or Facebook page. Thank you!PLATO NEGRO ECOLOGY AND CONSERVATIONAUTHOR: ROEL DE PLECKER
Page 11
Page 12
WHALES AND DOLPHINSPrice per person: $63, special prices for groups and residentsGroup: minimum 01 - maximum 18Start time: 8:30 AM - Duration: 3 hoursPrice includes: safe parking, bilingual guide, fruit, water, snorkel equipment, park admission and a lot of fun.Description: Leaves from Punta Uvita, Marino Ballena National Park. Travel to the Whale's Tail, Isla Ballena, and the caves at Ventanas Beach for snorkeling and sightseeing. Wath whales, dolphins, turtles, and rays.WILDLIFE AND SNORKELINGPrice per person: $55 - Group: minimum 04, maximum 12Start time: according to tides - Duration: 2 hoursPrice includes: free pickup, tropical fruit, water, bilingual guide, park fee. Description: Marino Ballena National Park harbors a lot of wildlife and the largest coral reef on the pacic coast of Central America. the tour takes you to places difcult to nd, near the Whales Tail reef and Isla Ballena. After the tour spend the rest of the day enjoying the beauties of the park.CORCOVADO NATIONAL PARKPrice per person: $110 - Group: minimum 01, maximum 08Start time: 07:00 AM - Duration: Full DayPrice includes: park admission, lunch and snacks, water, and soft drinks - pick up available for an extra charge.Description: tour departs from Sierpe Village. During the trip you can observe the wildlife of the mangroves and swamps of the Sierpe River delta. At the Corcovado Park´s San Pedrillo Station the guide takes you on a hike through the jungle and river mouth to wath wildlife and plants. Snorkeling on request.CANO ISLANDPrice per person: $135 - Group: minimum 01 maximum 18Start time: 6:30 AM - Duration: Full DayPrice includes: Biological Reserve admission fee, sandwiches, snacks, lunch, water, soft drinks, bilingual guide, humpback whale watching in season. De-scription: Tour departs from the village of Sierpe through the swamps and mangroves of the Sierpe river delta. The boat will take you snorkeling on the famous reefs near Cano Island. Emerge into the wonderous underwaterworld!SCUBA DIVINGPrice per person: $175 - Group: minimum 02, maximum 06Start time: 07:00 AM - Duration: Full TimePrice includes: lunch and snacks, water, and soft drinks - pick up available for an extra charge.Description: Tour departs from Uvita or Sierpe exploring the mangroves and swamps of the Sierpe river delta. Two dives, two tanks at the world-famous reefs at Cano Island - sharks, whales, tropical sh and more! All levels of classes available at various prices. Packages available for multi-day dives or to get your certication.WHITE WATER RAFTINGPrice per person: $95 - Group: minimum 04, maximum 09Start time: 6:30 am or 8:00 am - Duration: 5 to 9 hoursPrice includes: all necessary equipment, bilingual guide.Description: Pick your level and enjoy the ride! Savegre River: 5 hours. class 2 and 3, great for beginners. Swim at a waterfall, light lunch on the river. Then, another hour of rafting. Coto Brus river: 9 hours. Class 3 and 4, no children. 1.5-hour wild ride, then lunch, followed by two more hours of rafting!Enjoy OSA
Page 13
CANOPY ZIP LINESPrice per person: $45 - Group: minimum 01, maximum 40Start time: 8:00 am, 11:00 am, and 2:00 pm - Duration: 2 hoursPrice includes: all equipment, bilingual guide, transportation available for an extra charge.Description: Get tted with your helmet and harness, then off you go! Start with a short tour of the rain forest, spotting birds and animals. Then, up to the rst platform for a jungle ride - 14 stations send you through the tree-tops, across ravines, and mountains!HORSEBACK RIDINGPrice per person: $60 - Group: minimum 02, maximum 08Start time: upon request - Duration: 3 hoursPrice includes: friendly tour guide, saddled horsesDescription: Take horseback riding through the mountains, jungles, or beaches! Start early for birdwatching, monkeys, and other wildlife - stop at a remote waterfall for a swim or start late for a sunset ride on the beach! MANGROVES WILDLIFEPrice per person: $68. special price for groups - Group: min. 02, max. 12Start time: 3:00PM - Duration: 3 hoursPrice includes: a bilingual guide, fruit, water - pick up available for an extra charge.Description: Sierpe River day trip or sunset cruise through the swamps and mangroves - watch the jungle around you come alive with the growing darkness! Enjoy from the comfort of a catamaran boat. A great end to a perfect day! NIGHT HIKEPrice per person: $55 - Group: minimum 02, maximum 08Start time: 5:00 PM - Duration: 3 hoursPrice includes: a specialized bilingual guide, snack, water, and juice - pick up available for an extra charge.Description: Watch the sunset, then discover the creatures during a night hike in the jungle: night plants, spiders, frogs, and snakes! Your specialized guide will keep you safe and sound exploring the rain forest!NAUYACA WATERFALL NATURE PARKPrice per person: $35. Transportation available for an extra charge.Group: minimum 01, maximum 20Start time: 7:30 am to 4:30 pm – Duration: according to your preferencePrice includes: Trolley ride from the reception to the nature park and hiking trails, admission fee, parking, bathrooms, showers, changing rooms, hiking trails through a primary rain forest. Description: Enjoy the epic beauty of; the Costa Rican natural wonder in a beautiful, privately owned nature preserve with clean, modern facilities and roads that provide the best access to Nauyaca waterfall. Enjoy a swim in the beautiful natural pool!SPORT FISHING DRAKE BAYPrice: Half Day $575 – Full Day $950 - Group: minimum 02, maximum 06Start time: 7:00 AM - Duration: 4 - 7 hoursPrice includes: all necessary equipment, park admittance fee, water, snacks, fruit, beverages, lunch (full day option) bilingual guide.Description: The Osa Peninsula in Costa Rica is one of the most exciting destinations in the world for shing. After a short 45-minute trip, you will be ready to chase a fantastic variety of coastal species. All the boats can sh either offshore or inshore because of our generally calm sea conditions.Enjoy OSA
Page 14
DIA / DAY ALTA / HIGH BAJA / LOW ALTA / HIGH BAJA / LOW ALTA / HIGHFULL MOON NEW MOONMAREAS - TIDES ENERO /JANUARY 15 -31, 2022FASES LUNARES / MOON PHASESMAPDOMINICALJANUARY 2022 –TIDE CHARTS Date HighTime/HeightLowTime/HeightHighTime/HeightLowTime/HeightHighTime/HeightSat 01 00:46 9.27 ft 07:07 0.16 ft 13:24 8.36 ft 19:20 0.61 ft Sun 02 01:42 9.63 ft 08:02 −0.30 ft 14:20 8.86 ft 20:18 0.26 ft Mon 03 02:37 9.90 ft 08:55 −0.66 ft 15:14 9.28 ft 21:13 −0.00 ft Tue 04 03:30 10.02 ft 09:46 −0.86 ft 16:06 9.57 ft 22:07 −0.12 ft Wed 05 04:22 9.95 ft 10:36 −0.87 ft 16:57 9.68 ft 23:00 −0.07 ft Thu 06 05:13 9.68 ft 11:26 −0.68 ft 17:47 9.61 ft 23:52 0.14 ft Fri 07 06:05 9.25 ft 12:14 −0.30 ft 18:38 9.36 ft Sat 08 00:45 0.49 ft 06:56 8.69 ft 13:03 0.21 ft 19:29 9.00 ft Sun 09 01:39 0.91 ft 07:50 8.08 ft 13:53 0.79 ft 20:22 8.58 ft Mon 10 02:34 1.32 ft 08:46 7.51 ft 14:46 1.36 ft 21:16 8.18 ft Tue 11 03:33 1.65 ft 09:45 7.06 ft 15:41 1.85 ft 22:13 7.88 ft Wed 12 04:34 1.83 ft 10:47 6.79 ft 16:40 2.18 ft 23:09 7.71 ft Thu 13 05:35 1.83 ft 11:49 6.73 ft 17:39 2.33 ft Fri 14 00:04 7.70 ft 06:30 1.67 ft 12:45 6.87 ft 18:34 2.30 ft Sat 15 00:54 7.81 ft 07:19 1.41 ft 13:35 7.12 ft 19:25 2.12 ft Sun 16 01:41 8.01 ft 08:03 1.09 ft 14:20 7.45 ft 20:10 1.85 ft Mon 17 02:24 8.24 ft 08:43 0.78 ft 15:00 7.79 ft 20:52 1.55 ft Tue 18 03:05 8.46 ft 09:20 0.50 ft 15:39 8.11 ft 21:32 1.26 ft Wed 19 03:44 8.61 ft 09:57 0.31 ft 16:16 8.37 ft 22:11 1.01 ft Thu 20 04:22 8.67 ft 10:32 0.21 ft 16:52 8.57 ft 22:49 0.83 ft Fri 21 05:00 8.63 ft 11:07 0.20 ft 17:28 8.69 ft 23:28 0.74 ft Sat 22 05:38 8.49 ft 11:43 0.28 ft 18:04 8.74 ft Sun 23 00:08 0.73 ft 06:18 8.26 ft 12:21 0.43 ft 18:43 8.73 ft Mon 24 00:50 0.79 ft 07:00 7.97 ft 13:01 0.64 ft 19:26 8.65 ft Tue 25 01:37 0.92 ft 07:47 7.65 ft 13:46 0.89 ft 20:14 8.52 ft Wed 26 02:30 1.07 ft 08:41 7.36 ft 14:39 1.16 ft 21:10 8.39 ft Thu 27 03:30 1.17 ft 09:45 7.17 ft 15:40 1.37 ft 22:14 8.32 ft Fri 28 04:36 1.13 ft 10:55 7.19 ft 16:50 1.43 ft 23:22 8.41 ft Sat 29 05:46 0.90 ft 12:06 7.49 ft 18:01 1.25 ft Sun 30 00:29 8.66 ft 06:51 0.49 ft 13:11 8.00 ft 19:09 0.88 ft Mon 31 01:31 9.02 ft 07:50 −0.01 ft 14:10 8.60 ft 20:10 0.41 ft NEW MOON - January 2nd - FULL MOON - January 17th Tide Chart provided by CrSurf, not for navigation e 14
Page 15
FULL MOON NEW MOONFASES LUNARES / MOON PHASESMAREAS - TIDES FEBRERO / FEBRUARY 1-28, 2022MAPDIA / DAY ALTA / HIGH BAJA / LOW ALTA / HIGH BAJA / LOW ALTA / HIGH15DOMINICALFEBRUARY 2022 –TIDE CHARTS FULL MOON February 16th Time/Height Time/Height Time/Height Time/Height Time/HeightTue 01 02:28 9.37 ft 08:44 −0.47 ft 15:03 9.16 ft 21:06 −0.01 ft Wed 02 03:20 9.61 ft 09:34 −0.79 ft 15:53 9.57 ft 21:57 −0.29 ft Thu 03 04:10 9.68 ft 10:20 −0.91 ft 16:40 9.77 ft 22:45 −0.36 ft Fri 04 04:57 9.54 ft 11:05 −0.80 ft 17:25 9.74 ft 23:32 −0.23 ft Sat 05 05:43 9.19 ft 11:48 −0.47 ft 18:10 9.49 ft Sun 06 00:18 0.09 ft 06:28 8.67 ft 12:31 0.03 ft 18:54 9.06 ft Mon 07 01:03 0.54 ft 07:14 8.05 ft 13:14 0.65 ft 19:40 8.52 ft Tue 08 01:51 1.05 ft 08:03 7.40 ft 13:59 1.30 ft 20:27 7.97 ft Wed 09 02:42 1.53 ft 08:57 6.82 ft 14:49 1.91 ft 21:20 7.48 ft Thu 10 03:40 1.90 ft 09:58 6.41 ft 15:46 2.38 ft 22:20 7.16 ft Fri 11 04:45 2.06 ft 11:07 6.26 ft 16:53 2.62 ft 23:23 7.06 ft Sat 12 05:51 1.97 ft 12:12 6.39 ft 18:01 2.56 ft Sun 13 00:23 7.19 ft 06:49 1.68 ft 13:08 6.75 ft 19:00 2.26 ft Mon 14 01:16 7.49 ft 07:37 1.27 ft 13:55 7.22 ft 19:49 1.82 ft Tue 15 02:03 7.86 ft 08:18 0.84 ft 14:36 7.73 ft 20:32 1.31 ft Wed 16 02:44 8.24 ft 08:56 0.44 ft 15:13 8.22 ft 21:11 0.82 ft Thu 17 03:23 8.55 ft 09:31 0.10 ft 15:49 8.65 ft 21:49 0.39 ft Fri 18 04:01 8.76 ft 10:06 −0.13 ft 16:24 8.98 ft 22:26 0.08 ft Sat 19 04:38 8.83 ft 10:40 −0.25 ft 16:59 9.20 ft 23:04 −0.09 ft Sun 20 05:15 8.76 ft 11:16 −0.24 ft 17:35 9.27 ft 23:43 −0.10 ft Mon 21 05:54 8.56 ft 11:54 −0.10 ft 18:14 9.19 ft Tue 22 00:25 0.04 ft 06:35 8.24 ft 12:34 0.18 ft 18:57 8.96 ft Wed 23 01:10 0.32 ft 07:22 7.82 ft 13:20 0.57 ft 19:46 8.61 ft Thu 24 02:02 0.68 ft 08:16 7.39 ft 14:14 1.02 ft 20:44 8.21 ft Fri 25 03:04 1.02 ft 09:22 7.06 ft 15:19 1.42 ft 21:53 7.91 ft Sat 26 04:15 1.19 ft 10:39 6.99 ft 16:36 1.58 ft 23:08 7.85 ft Sun 27 05:30 1.07 ft 11:55 7.29 ft 17:55 1.39 ft Mon 28 00:20 8.07 ft 06:40 0.68 ft 13:02 7.86 ft 19:05 0.92 ft Tide Chart provided by CrSurf, not for navigation.
Page 16
FULL MOON NEW MOONFASES LUNARES / MOON PHASESMARZO /MARCH 1-14, 2022MAREAS - TIDES MAPDIA / DAY ALTA / HIGH BAJA / LOW ALTA / HIGH BAJA / LOW ALTA / HIGHDOMINICALMARCH 2022 –TIDE CHARTS NEW MOON – March 2nd FULL MOON – March 18th Time/Height Time/Height Time/Height Time/Height Time/HeightTue 01 01:24 8.48 ft 07:40 0.17 ft 13:59 8.52 ft 20:04 0.35 ft Wed 02 02:19 8.89 ft 08:31 −0.31 ft 14:49 9.10 ft 20:55 −0.14 ft Thu 03 03:07 9.20 ft 09:17 −0.65 ft 15:34 9.52 ft 21:42 −0.47 ft Fri 04 03:53 9.33 ft 09:59 −0.78 ft 16:17 9.70 ft 22:25 −0.58 ft Sat 05 04:36 9.24 ft 10:40 −0.69 ft 16:58 9.65 ft 23:06 −0.46 ft Sun 06 05:17 8.95 ft 11:19 −0.39 ft 17:38 9.37 ft 23:47 −0.16 ft Mon 07 05:58 8.49 ft 11:57 0.09 ft 18:17 8.91 ft Tue 08 00:27 0.29 ft 06:39 7.92 ft 12:36 0.68 ft 18:58 8.34 ft Wed 09 01:09 0.81 ft 07:23 7.30 ft 13:16 1.32 ft 19:41 7.74 ft Thu 10 01:55 1.35 ft 08:13 6.71 ft 14:03 1.94 ft 20:31 7.18 ft Fri 11 02:48 1.81 ft 09:13 6.26 ft 14:59 2.44 ft 21:32 6.76 ft Sat 12 03:53 2.09 ft 10:23 6.07 ft 16:10 2.70 ft 22:41 6.61 ft Sun 13 05:05 2.10 ft 11:34 6.22 ft 17:26 2.60 ft 23:49 6.75 ft Mon 14 06:09 1.83 ft 12:33 6.63 ft 18:30 2.19 ft Tue 15 00:46 7.12 ft 07:01 1.40 ft 13:21 7.20 ft 19:21 1.61 ft Wed 16 01:34 7.59 ft 07:44 0.91 ft 14:02 7.82 ft 20:04 0.97 ft Thu 17 02:16 8.07 ft 08:22 0.42 ft 14:39 8.42 ft 20:43 0.35 ft Fri 18 02:56 8.49 ft 08:58 −0.01 ft 15:16 8.97 ft 21:21 −0.18 ft Sat 19 03:34 8.81 ft 09:35 −0.34 ft 15:52 9.38 ft 21:59 −0.56 ft Sun 20 04:12 8.97 ft 10:11 −0.52 ft 16:29 9.63 ft 22:38 −0.74 ft Mon 21 04:50 8.96 ft 10:49 −0.53 ft 17:08 9.66 ft 23:19 −0.71 ft Tue 22 05:31 8.77 ft 11:30 −0.35 ft 17:49 9.47 ft Wed 23 00:02 −0.46 ft 06:15 8.43 ft 12:14 0.01 ft 18:35 9.08 ft Thu 24 00:50 −0.04 ft 07:05 7.97 ft 13:03 0.51 ft 19:27 8.55 ft Fri 25 01:44 0.47 ft 08:03 7.49 ft 14:01 1.06 ft 20:28 7.99 ft Sat 26 02:47 0.94 ft 09:12 7.15 ft 15:12 1.50 ft 21:42 7.58 ft Sun 27 04:02 1.20 ft 10:31 7.13 ft 16:34 1.61 ft 23:00 7.50 ft Mon 28 05:19 1.13 ft 11:45 7.46 ft 17:53 1.33 ft Tue 29 00:12 7.74 ft 06:26 0.79 ft 12:48 8.01 ft 18:59 0.82 ft Wed 30 01:13 8.13 ft 07:23 0.35 ft 13:42 8.59 ft 19:53 0.28 ft Thu 31 02:04 8.51 ft 08:11 −0.03 ft 14:28 9.08 ft 20:40 −0.16 ft Tide Chart provided by CrSurf, not for navigation. 16
Page 17
17PHONE DIRECTORYPOLICE STATIONS Police Emergency: 911Transit : 2537 0631Dominical: 2787 0406Uvita: 2743 8538Ojochal: 2786 5661Cortés: 2788 8030 HOSPITALS & HEALTH Hospital Tomás Casas (Cortés): 2786 8148Hospital Escalante Pradilla (Pérez Zeledón): 2785 0700Servicios Médicos Bahía-Ballena: 2743 8595Farmacia Ibarra: 2743 8558EBAIS: 2743 8170ICEInformation: 1113International Operator: 1116Electric Failures: 1119OTHERS VETERINARIA COSTA BALLENA: 8730 8282MINAE: 2786 5392 ENVIRONMENTAL COMPLAINTS: 1192TAXIS DOMINICAL Erick 8602 3394Guiligan 8847 0231Ricardo (minibús 4x4) 8605 0801Daniel (pick-up) 8920 2322 UVITA Alex (freight) 8989 2298Carlos (freight) 8308 2695 Geovanni (minibús) 8870 6040Greivin 8791 5680Lusbín 8576 7606Henrry (Bilingual) 8543 9436Rodolfo (freight) 5711 6868PRIVATE TRANSPORT.comAll links are clickable. Try it out!GILBERTH 8852 8271
Page 18
Armored mammalsAUTHOR: JACK EWINGAbout 50 years ago, in South Florida, he was horseback riding, walking through a hole-lled pasture, herding cattle with a local cowboy. Armadillos appeared near some of the holes. "I wish I had my rie. I'd shoot those useless critters, "he exclaimed in disgust. "My favorite horse stuck a leg in one of those damn holes and broke it. I had to sacrice it. "A couple of years later I met Hacienda Barú, which at that time was a ranch. The armadillos here did not dig holes in the pastures, but lived in the jungle and only came out of their burrows at night. He knew they were here because one of the neighbors liked armadillo meat and hunted them whenever he could. Dozens of the shells hung from the walls of his house. I went there to look for it once, but couldn't get within ve meters of the front door, because the smell disgusted me. Later I learned that most armadillos are carriers of a disease called leprosy years ago it was feared. Apparently, it is not easily transmitted to humans, because no one in the hunter's family got sick.The shell is tough, comprising about a fth of the armadillo's total body weight, and is excellent protection against many predators and raptors. Large carnivores, such as cougars, jaguars, and possibly coyotes, can kill and eat these armored mammals.About three million years ago, when the land bridge between North and South America was completed, the ancestors of today's armadillos, along with their cousins sloths and anteaters, migrated from South America to Central America and America. from North. Among them were giant armadillos called glyptodontes, the size of a small Volkswagen car. Some anthropologists believe that humans used their shells as shelters. Like many other large animals, glyptodonts were likely exterminated by human hunters.Armadillos rely on their senses of smell and hearing. Like most burrowing animals, his eyesight is poor. Each armadillo will have several burrows where it will spend its daytime hours. When they burrow or rummage in the ground for food, they can close their nostrils to prevent dirt from entering. This useful little trick also helps them cross rivers by walking along the bottom while holding their breath, which they can do for more than ve minutes.Nine-banded armadillos eat just about any animal they can nd from litter and soil, including worms, frogs, insects, ants, and termites, among others. They also eat fruits and tubers from time to time.Interestingly, the offspring of the female armadillo will always be identical, quadruplets of the same sex that originated from the same egg and sperm. The fertilized egg divides into four identical copies of itself, each of which develops into a genetically identical embryo.During all these years, I remember seeing only two armadillos in the rainforests of Hacienda Barú. However, I know there are many more because my camera traps often capture their photos.18WILDLIFE - DOMINICAL & SURROUNDINGS
Page 19
Page 20
WELCOME TO BRIDAY SPA & WELLNESS CENTER DOMINICAL!20INITIATIVE - DOMINICAL & SURROUNDINGSBRI offers the most extensive selection in massage, beauty, spa, relaxation & therapy in the area between Matapalo and Ojochal.We will pamper you with one of the many different offers like body scrubs and a warm wellness shower afterward. Indulge in relaxing facial treatments, including the highest quality to optimize your eyebrows and eyelashes.Discover precious tooth jewelry applications. Show your legs and enjoy a smooth body depilated with wax. Choose your perfect nail artist design for pedicure and manicure. You will experience absolute well-being with our various spa massage treatments. Get rid of chronic pain or other issues with therapeutic massages by our expert with more than 25 years of experience. All this and more awaits you in our beautiful ambiance.NEW: ENJOY WARM HERBAL BATHS OR AN ICE BATH. Our packages include:Fresh fruits & juice.An outdoor relaxing zone on our balcony.Organic products.VIP Service (Bathrobe & Bath Towels for use).Wellness Shower.We are here to help and make you feel good and we love what we do! Our primary focus is to activate and balance your health & beauty!If you are looking for a comprehensive relaxation program, our BRI - Day Spa is the perfect choice for you!Enjoyable, delightful well-being hours await you!Receive a pleasant, energetic or healing treatment with the sound of relaxation music and soothing scents, exquisite massage oils, and nature´s energy. The professional BRI - Day Spa & Wellness Team is like a family, where you feel welcome and at home when you enter. We are an Institute of harmony in the service of the higher self and look forward to welcoming you soon to our healing spa paradise!
Page 21
DominicalMore than Spa & MaSSage!Feel the effective difference with special therapeutic treatments created for your health & exclusive Spa enjoyments for your pure well-being...Spa beauty care:• Spa Facial Special high quality with many Appliances • Spa Hot Stone Relax Massage • Spa Organic Chocolate Body Scrub or Spa BlueClay Scrub Massage.Wellness - Massage - Therapy:• NEW: Therapeutic Baths with herbes or ice• Full Body Special Deep Tissue Massage or Full Body 4 Hand Special • Deep Tissue Massage (with reiki, reexology, head massage & mini facial massage)• Bamboo Deep Tissue Massage • Feet and Hand Reexology • Acupuncture• Biomagnetism Therapy / Long distance / for Pets.+506 8678 7622 massage.dominical@gmail.comhttps://body-revitalization-massage-dominical.business.site/ Body Revitalization Institutehttps://www.facebook.com/massage.dominical + 506 8872 7591 info@pacificcoastlawcostarica.com 2787-0446Happy to assist you, you can reach out to us at:We put our Personalized Expertise at your Service.Experts in Real Estate Transactions• Licda. Rosario Araya, Notary and Attorney• Licda. Didania Montero, Notary and Attorney• Licda. Kimberly Duarte, Attorney. • Licda. Lindsay Ryan, PhD., on-call for high-quality environmental jobs.• Tim Woodruff, Attorney in California & Florida, Client Liaison. • Typhy Salmon, Legal Assistant. P a c i f i c c o a s t L a w
Page 22
Dominical Locals: Ruby´s Palm Art Indigenous cultures treat plants with great respect. Viewed as spiritual entities that required nurturing and soothing. A world where a human being was part of, rather than apart from nature. The craft of basketry was born of necessity – containers to gather and store food. Early sapiens mimicked the forms made by the animal and plant weavers in the natural world they lived intimately with. When I arrived in Costa Rica in 1997, I had been weaving baskets for 15 years. Basketry was a natural extension of my interest in plants through gardening and wild-crafting in my Southern Oregon Coastal forest home. Through books and museums, I saw the beautiful and functional baskets of the Coastal indigenous cultures from Alaska south. I was inspired to learn about the craft of basketry and the plants used for their creation. However, I didn't restrict myself to the traditional basket-making plants. After learning the basic twinning technique, I began experimenting with the plants I found in my immediate environment – blackberry vines, willow, honeysuckle, and even poison oak. So soon after my partner Steve and I, his elderly parents, and our teenage daughter Katherine moved into the little town of Dominical, we began building our home on a lot bordering the Baru River. When we took breaks from sanding wood and tiling oors, Steve went out to chase waves, and I began my search for tropical plant parts that I could manipulate into containers, baskets, boxes, and lampshades (needed in my 'bare-bulbed', half-nished house). After experimental trial and error, I found the perfect material in the discarded sheaths of various palms – royal, lipstick, navidad, and aracae. Since these palms weren't introduced into Costa Rica till the late 1800's they were not used by the indigenous people in their basketry. These sheaths, shed by the palm, are plentiful, renewable, beautiful, accessible for gathering material. Besides the fun of riding waves and weaving baskets, we needed to get creative with a plan for generating an income. Not retired and too young for Social Security benets, we fell into a niche we were suited for – being hosts. The apparent facts pointed the way: I knew how to cook from scratch and improvise, having lived a long way from a grocery store. Dominical had no vegetarian restaurant options. We had a kitchen and a stove and lots of space lled with a few tables and chairs. We played music and wanted to attract musicians to play with us. Also, since we had no door, 'Bienvenidos' looked like our theme. We called ourselves Jazzy's RiverHouse, named after our newborn granddaughter, a place for music and home-cooked food. A cultural center of sorts. So with the help of my daughter, husband, and young friends, we cooked and presented a 5-course meal every Wednesday night serving up to 45 people until I announced the 'Last Supper' 8 years later. So Jazzy's RiverHouse continues to be a cultural center – an ample space for palm part weaving classes, musical collaborations, and piano lessons. If learning to make a container or art object out of this plentiful material called a 'palm sheath' interests you, contact me to set up a time and date. Since hands-on work is unique to the human-animal, a craft that employs our hands may be essential to our mental health. I love it, and you may want it, too!22ART - DOMINICAL & SURROUNDINGSAUTHOR: RUBY & STEVE FERGUS
Page 23
Page 24
24John Deven is a professional photographer/videographer from San Francisco, California, USA. Together with his wife, Lydia, they have recently relocated to the Southern Zone - Platanillo, Perez Zeledon. A colleague once told John, "Don't shoot what it looks like. Shoot what it feels like." John Deven has taken to heart those sage words of advice, and his work in cycling, adventure sports, and tness photography demonstrate that he's living them. "Lydia and I rst visited Costa Rica in 2016, where we toured the central valley and the Caribbean coast. The diverse beauty of the mountains, cloud forests, wildlife, and beaches captivated our imagination of living here someday. After that trip, we wanted to see more of the country. We returned within a year to explore the Pacic coast from Guanacaste to Drakes Bay. Finally, we decided to stay in Platanillo as our home base for the Southern Zone. We loved how warm and friendly the people were. After visiting Parque Nacional Manuel Antonio and Parque Nacional Marino Ballena, we knew we found the location of our someday home." John started his photography business in early 2015. He has a certicate in Portrait Photography from WPPI, a well-known industry association in the United States. He attended numerous sports and adventure photography workshops to study under world-renowned sports photographers with a ery obsession for becoming the best active lifestyle photographer possible. "In 2018, my business coach told me I needed to learn how to produce videos to provide a more comprehensive service for clients. I was initially reluctant because I was intimidated by all the nuances of video production; from storyboarding, shoot planning, learning new gear, learning to create a compelling edit, it was a lot to take on. It's funny how, back in college, I wanted to work in lm and video, but my dad disapproved for several reasons. I ended up joining the U.S. Navy instead. I nally had the opportunity to pursue my dream of working in video." John said. John then set out to learn the craft of video production with award-winning lmmakers. He studied documentary lmmaking with Brian Storm from MediaStorm lm production company (awarded multiple Emmy's and Webby's among other U.S. and international awards). Continuing his lm studies, he chose to study under Katie Schuler, award-winning conservation photographer, lmmaker, and founder of Coral & Oak Studios. In 2021, John & Lydia decided to move to Costa Rica permanently. "The timing was perfect, and we used the month of June to decide on and purchase a piece of property- our little slice of paradise. We found a beautiful place in Platanillo. We sold most of our stuff, and we are now enjoying getting acclimated." "I'm looking forward to telling stories through vibrant images and video that benet the Southern Zone community, support conservation efforts, and continue to hone my passion for active lifestyle photography and videography."JOHN DEVEN'S PHOTOS TELL STORY~TALESAUTHOR: DAGMAR REINHARDINITIATIVE - DOMINICAL & SURROUNDINGS
Page 25
Available at Amazon, Barnes & Noble, Apple Books, and others.SELECTED PHOTOS BY JOHN DEVEN / COMING SOON: Enjoy OSA
Page 26
If you have decided to travel to Costa Rica, you willprobably have chosen this destination, not least because of the breath-taking biodiversity. Wherever you look, the wildlife on this corner of the world is unique! A rampant animal is the Green Iguana. The (iguana - iguana) is native to Central America, and it feels right at home in the dense forests and tropical climate. While at home, you can probably only marvel at these exotic lizards in a terrarium; here, the animals run across your path almost every day.When fully grown, the iguanas grow up to 2 meters long, with the tail accounting for two-thirds of the total length. The males are signicantly larger and have longer "spines" on the back and tail. The animals are at home in Costa Rica and throughout Central and South America. They prefer lush vegetation with a lot of warmth and humidity. They are diurnal and very loyal to their habitat. They are excellent climbers and are often found in treetops. And beware: if an iguana falls from there, you can often hear a loud bang! This is because their lungs ll with air when they fall.However, do not feel irritated by the name "green iguana" because a high color variation characterizes the iguana iguana. Some animals have a greyish hue; others have shades of brown. In addition, some males can also have a reddish coloration in the limb areas.When green iguanas feel threatened, they lash out with their tails in a whip-like manner. At the same time, male iguanas use the pufng up of their throat dewlap and head nodding as threatening behaviors to impress females. The dry season in December and January is mating season. When mating, the female lays about 30-45 eggs in a burrow, she digs herself. After abouteight weeks, the young hatch.Even though you may be a little apprehensive at rst contact, you can be unconcerned: iguanas are more afraid of you! You will notice that the animals usually run away in a ash when they feel threatened. They often ee through the water, as they are excellent swimmers. Iguanas feed exclusively on plants and leaves, not even insects, as is sometimes assumed.The green iguana is an integral part of Costa Rica's wildlife and one of the exotic species worth visiting for! The imposing creatures are becoming increasingly accustomed to humans, and you can often photograph them from a few meters. Conveniently, then, iguanas are everywhere to be seen here!THE GREEN IGUANAAUTHOR: LEVIN SALLAMON26
Page 27
Page 28
AUTHOR: LOUISA BAYERUvita has more to offer than beautiful beaches, green nature, and great species diversity. The diversity of wildlife and plants is just as signicant as its culinary offer. Almost on every street corner, you can nd a restaurant where you can satisfy your appetite or thirst after a relaxing day at the beach or a long hike through nature. There is something for every taste.There is a wide choice here, starting with the local specialties: Especially around the Marino Ballena National Park entrance in Bahía Uvita, you can take a break in beach bars and restaurants, and they are all classic Costa Rican. Whether you want to drink a big, fresh smoothie made from regional fruits, end the evening with a cocktail, or are in the mood for an ample portion of local food. I especially like nachos. The street leading to the National Park offers a wide choice, where each restaurant impresses with its unique ambiance. The waiters also give excellent and bilingual service.There are other local restaurants in the center of Uvita, which differ from the beach bar ambiance. Here you can also nd the same food. Fresh smoothies, good cocktails, and fantastic food are guaranteed here. In addition to nachos, quesadillas, and more, you can have a succulent hamburger. One thing is sure: the price-quality ratio is excellent.An insider tip is the delicious crispy fried sh at a beach club a few kilometers south of Uvita. For nothing in the world, you should miss this. In the direction of Ojochal, you end up in dreamlike scenery in a beautiful park-like garden surrounded by monkeys and other wild animals who hop through the grass. Especially recommended here is the red snapper, prepared in an exotic marinade. Another highlight at this place: the pool bar is open. So you can enjoy your food and drink placed on the counter while sitting in the cool water.If you don't want to eat regional food, there is a large selection of international restaurants. Especially to be recommended for breakfast is a small French café. On Wednesdays and Saturdays, you can easily combine this with a visit to the farmers' market. There is a wide variety of food, and the quality is thoroughly enjoyable. Excellent breakfast comes at a price. However, the price is reasonable.If you feel hungry for sushi in the evening, you have more than one restaurant to choose from in Uvita. All prepare delicious sushi and even convinced me as an actual non-sushi eater.A cozy restaurant for pizza and pasta lovers and an expansive open terrace is near Steve's supermarket. Often you have to make a reservation or come early to get a table. The menu here is also very extensive and offers typical Italian food and local dishes. The waiters are very friendly but speak only a little or no English, which might make communication difcult.Overall, the choice of food in Uvita is very considerable and delicious. So far, every restaurant has convinced me with a diverse selection of dishes.UVITA'S GREAT CULINARY DIVERSITY28
Page 29



TUESDAY: FERIA DE TINAMASTE WEDNESDAY & SATURDAY: EL MERCADO DE UVITATHURSDAY: FERIA DE SAN ISIDROFRIDAY: ECO FERIA DOMINICALFRIDAY DELIVERY:DOMINICAL - UVITA - OJOCHALSPICY CARROT DIP ~ KEFIR ~ HERB CHEESERICOTTA CHEESE ~ PLAIN, GREEK & FRUIT YOGURT




Page 30
RESTAURANTS UVITA Mediterranean Restaurant Bar and BoutiqueMonday to Sat 11 AM - 10 PM Sunday 11 AM - 8 PMClosed Tuesday300m North of the Gas Station4702 3939French Savoir Faire2201 8253PANTONE 1255C C : 24 M : 42 J : 91 N :14French Savoir Faire in Bahía BallenaEvery Day – 7 AM to 9 PM• WINE BAR • CAFE • SUSHIMonday - Saturday 11 PM - 9 PM 600 M FROM BCRTOWARDS THE UVITA WATERFALL2215 0068GASTRONOMY - UVITA & SURROUNDINGS30OPEN EVERY DAY 7 AM - 9 PMSUNDAY BRUNCH 9 AM - 4 PMPLAZA BAHIA MOANA CALLE BALLENABAHIA 200 M WEST OFF COASTAL HIGHWAY Restaurant – Coffee Shop - Bakery DAILY 6 AM to 8 PM100 M SUR SERVICENTRO DE UVITA8779 2260
Page 31
North American Breakfast,Lunch • Early DinnerOPEN 8 AM – 3 PMCLOSED ON SUNDAY DOME PLAZA2743 8506RESTAURANTSInternational Food with Austrian Touch Breakfast buffet, Lunch & Dinner Cocktail-BarOpen every 7 AM-5 PM - Pls Reserve for DinnerKM 169 HOTEL CRISTAL BALLENA2786 5354 UVITA Fresh Fusion DishesVegan and Gluten Free OptionsTuesday to Sunday 11 AM - 4 PMFri & Sat Dinner until 8 PM6 KM SOUTH OF UVITA NEXT TO BALLENA BEACH2786 5407GASTRONOMY - UVITA & SURROUNDINGS31Chinese-American FoodTake Out OptionLunch • Sunset appetizers and dinner11 AM - 10 PM 5 KM NORTH OF UVITA274381828372 7144
Page 32
NEW ADDRESS: UVITANEXT TO SIBU
Page 33
INACTIVE COMPANIES FILE INCOME STATEMENT IN MARCHAUTHOR: LIC. MAURO ESQUIVEL Treasury made the simplied form available to taxpayers for inactive companies to declare.All those companies registered under activity code number 960113, "legal persons incorporated in the country that do not carry out economic activities of Costa Rican source," will have to complete the declaration.The representatives of these companies must include in the declaration the information of the scal periods 2020 and 2021, and the deadline to comply with the obligation will be March 15, 2022.This declaration must be made through the portal (ATV) Virtual Tax Administration of the Ministry of Finance. Taxpayers must have updated information on the tax address and legal representative."It is important to remember that Law No. 9635, 'Strengthening of Public Finances, "in article 2, obliges all legal entities, regardless of whether they carry out lucrative activities, to le income tax returns." "However, for the so-called inactive companies, the tax administration itself had suspended the ling of the return until the simplied form was available."This declaration implies an act of transparency of these companies with Treasury about their assets and the origin of the funds with which they were acquired.New Sectors and Activities may be selected for Tax AuditsA group of new sectors and activities entered the criteria for selecting taxpayers that could be subject to tax audits.The list was made known by the Tax Administration of the Ministry of Finance through a resolution, in force since January 1, 2022.According to the resolution, the following economic sectors and activities are included in the list:-Agriculture, livestock, hunting, shing, and forestry.-Manufacturing industries.-Supply of electricity, gas, and water.-Construction.-Wholesale and Retail.-Transport and storage.-Hotels and restaurants.-Centres for placing bets, games of chance, casinos, and operating slot machines.-Information and communications.-Financial intermediation and insurance.-Real estate, rental, and business activities.-Professional, scientic and technical activities.-Public administration and defense, compulsory social security.-Teaching.-Human health activities and social assistance.-Other community, social, and personal service activities.-Private homes with domestic service.-Organizations and extraterritorial bodies.The most important thing given the new panorama is that the companies in those sectors carry out the economic activities dened in the list necessary preventive measures to prepare in case of being notied of a tax audit.33 ECONOMY - UVITA & SURROUNDINGS
Page 34
Soccer Lessons are Lessons for Life (AFU) ⚽AUTHOR: LEVIN SALLAMONIs there anything better for kids than to be part of a community, in which to learn the most important lessons in life? A safe place to develop strengths and to learn respect, self-condence, and trust. That's what the football academy in Uvita (AFU) is all about. Four and a half years ago, soccer coach Jason and his indigenous friend Omar decided to turn the local youth soccer team into an academy. The impact on the children's training progresses and the aspect of professionality should have been enhanced. Jason is delighted that many families request the local service of the academy. Kids from 3-17 years can participate meanwhile the majority of the young talents is between 6 and 15 years old. Jason seems proud when he reports that there are children from over 14 countries playing for the academy. "Our goal is simple: we want to create a safe, fun atmosphere to plug", he says. Primarily grown up in Louisiana, Jason came to Costa Rica in 2007. He and his wife, who is from Honduras, have grown two sons. It is no question that both play in the academy in different age classes."We want to teach the true signicance of discipline, character, and responsibility. I give you an example: if we meet at 9:30 at a gameday, everyone should get straight that you have to be there at least at 9:25 or even earlier." As a coach, he assumes that expecting a lot from the children can enhance their work ethic not only in sports but further in their professional careers. "We want the kids to learn for life." He and his other coaches approach to take the academy to the next level: "We dream to see the kids play in the highest level both in national and international terms." He wishes that the children and their families have the same standards as others have. High hopes also take high investments. This is why the membership costs 20.000 colones per month. It is necessary to settle the games and training, new equipment such as balls, bibs, and the general quality standard of the articial turf on the training ground. Jason says the monthly fees are absolutely irreplaceable to the academy. "To me, it lights up my life being a voice in the kids' life. I really do my best to speak to them. I always try to tell them: "dream big and take the hard work. It's gonna be worth it". As well, soccer is an important connector between me and my sons, my friends, my family", Jason discusses the best things for him working as a coach. In the year 2022, the academy aims to take place in a national tournament. "Some years ago, we participated in an international tournament in Panama and even went out as the winners. We all were so proud!" As a result, you can see that all the dedication towards the academy pays off as there is a constantly growing amount of kids itching to learn soccer. SPORTS - UVITA & SURROUNDINGS34
Page 35
P R O F E S S I O N A L S T U D I OI N T E R N A T I O N A LA R T I S T SV E G A N I N K S + 5 0 6 8 9 6 9 - 0 4 4 8Uvita de Osa, PuntarenasCalle Bahia BallenaPlaza Bahia Moana, Piso 1
Page 36
Inspiration is that force that moves the threads of creativity, that leads the artist to awaken his thoughts, body, and soul to express what needs to be revealed. It is something that doesn´t let you sleep, eat or live, until it manages to be condensed in these pieces, which, in Oli´s case, are small detailed, and meticulous worlds that arouse the curiosity of those who see them.Observing Olí´s art is a wonderful experience, between very elaborate pieces and other simpler ones; it manages to captivate our imagination and transports us to magical lands, to distant times, and to periods of the history of the world that are alien to our daily lives. That is why we wanted to know what inspires Oli Valerio to create his art, and here is his story:Oli is a Tico born in Heredia. His rst steps into the world of art were at the College of Craftsmen, where he learned the bases of the trade, and it was not until he began to travel the world that his inspiration grew to stratospheric levels.When Oli was about 20 years old, he went to Costa Rican's beaches to sell his art. This experience opened his eyes: meeting so many artisans from different countries, with their cultures and marked accents, who easily traded their pieces and were free, was a call to discover the world, avoid a life in a suit, tie, and ofce. He wanted to live intensely, so he quit his job, and with the settlement, he started the journey. The rst destination was Cuba; he invested his money in merchandise and returned to sell it wholesale, recovered liquidity, and went to South and Central America, where he learned a lot, especially that fullling dreams requires effort and some strategy. He gained the experience that made him mature and grow. Then he went to Europe, Asia, and Africa, circling for several years in these continents, changing country, culture, language, people, and inspiration every three months. He nourished his brain with information, artistic styles, colors and features, customs, and ways of life. AUTHOR: DENISSE CATTANOART - UVITA & SURROUNDINGS36AWA.OLI - THE ENCHANTER OF THE STONES
Page 37
These experiences triggered him every day with new ideas, materials, and techniques until he polished his own art version. Oli knows more than 60 countries; each one has left him something. I asked him if he "regretted" something throughout all those adventures, and he said "yes." Take note, here comes a golden anecdote: Oli says that many times he moved from one place to another, hoping one day to return and nd that same magic that made him fall in love. He always kept his promises to return, but he realized that it was not the same every time he returned to a loved place. It was not only the place that had the magic but the combination of elements such as friends, energy, festivals, traditions, love, and the environment of that moment. It is like waking up from a dream and wanting to sleep to return to the exact moment without succeeding. That is why his advice is that we live each day intensely and that when we love something, to enjoy it to the fullest because we do not know how long it will last.Oli confesses that he did not know what he was leaving when he left Costa Rica as a young man. Until he traveled the world, he knew how lucky he was to have this home. Sixty countries, yes, it sounds fantastic, but whoever knows the world knows that Costa Rica is a little piece of heaven: a small tropical paradise with rich lands, beautiful people, and perfect weather.Oli returned three years ago; his new home is Costa Ballena. His artistic brand is AWA: a bribri word that means "the one who collects the stones," and that is what Oli wants to do, to travel the world collecting small treasures to create art, bring them to Costa Rica, and inspire others to live their own adventure, just as he one day recognized his path between beaches and beautiful people.+506 6315 9922Instagram: awa.oliWednesday: El Mercado Bahía Daily: Domincal Beach BoulevardOLI VALERIO Costarican Jewelry Designer, AWA.Silver, brass, natural stones and macrame.Art inspired in my travels around the world.
Page 38
INITIATIVE - UVITA & SURROUNDINGS38The papaya is native to Tropical America, where it was already cultivated before the discovery of America. From there the Spanish navigators expanded its cultivation to other areas.Carica papaya, is a species of shrubby plant of the genus Carica in the family Caricaceae. Its fruit is commonly known as papaya, papayón, olocoton, papaya in the Dominican Republic and Venezuela, bomba fruit in Cuba, papaya melon, tree melon, mamon in Paraguay and much of Argentina.When I tried papaya for the very rst time, I learned to appreciate this delicious exotic fruit. First, I only ate the smooth esh of the papaya and banned the black seeds. What a mistake! The papaya seeds are non-toxic and offer a range of amazing health benets. They detoxify the liver, protect the kidneys and serve as cancer prevention. If you want to get rid of intestinal parasites, try these magical seeds! They also have a strong antibacterial effect on the digestive system, as they eliminate E coli, Staph and Salmonella. These are some good reasons to include the peppery papaya seeds in your everyday diet. Either you eat them raw or use them as an alternative for peppercorns. You can freeze them; they will be perfect for a salad in a couple of weeks! Try out the following recipe and improve your state of health!Papaya SoupIngredients1 medium rm papaya1 tbsp butter1 white, minced onion2 cups vegetables stocksaltSmashed, dried papaya seeds1 cup heavy creamPeel the papaya, save the seeds and cut it into small pieces. Heat butter in a pan and fry the papayas and onion without browning. Add the stock and season with salt and papaya seeds. When the papaya is soft, put the mixture in a blender, blend until it is smooth. Add heavy cream and ready is your delicious soup! DETOX WITH MAGICAL PAPAYA SEEDS!AUTHOR: SUSANNA KAHR
Page 39
Lic. Ana Cecilia Beita V. Lic. Marvin Rodríguez CecilianoPublic and Private Acountants +506 7110 0268 / +506 7174 3010 gafrasilma@hotmail.com Frente al Banco Costa Rica – UvitaLicda: Silvia Zuñiga MoraLawyer and Notary Servicios Migratorios / Migratory ServicesBienes muebles / Movable Property Bienes inmuebles / Immovable property.Pérez Zeledón - Uvita+506 8464-9365Co n t a d o r e s p ú b l i C o s y p r i v a d o selmercadocr elmercado.osa_cr EL MERCADO Miércoles / Wednesday Sábados / Saturdays 8 am a 2 pm Bahia Ballena deLocal Marketelmercado.cr +506 8411-8807 39
Page 40
FILM "ENTANGLED IN COSTA RICA" OUT NOW!40Our documentary "Entangled in Costa Rica" - about the rescue of a humpback whale family in the South Pacic waters, is nally out now. It can be watched both on the website of innoceana.com and theveganpirates.com. You might wonder why it took us so long to release the lm. Some of you have already heard or read about the rescue of the whales and the start of the production for the documentary in mid-2020. Well, the last months have been fantastic for Innoceana as a marine conservation organization and us as lmmakers. We couldn't be more happy and satised with the invitations and ofcial selections to many lm festivals worldwide. So far, we have been selected by more than 20 festivals in the U.S.A., Canada, Brazil, Venezuela, Spain, France, England, Italy, Hungary, and Greece. Most of them happened online as streaming events. We were invited, screened, or presented with many other exceptional lms and big productions. For a small lmmaker with a non-budget project this was a great honor. Especially the participation at festivals with a solid connection to whales and ocean conservation, environment, or nature made us very proud. And we are even more proud to have been given some very prestigious awards - e.g., Best Documentary, Best Directing, and Social Awareness at T.I.F.A. - Tiete International Film Awards, Brazil.On December 9th Innoceana and The Vegan Pirates had an online presentation with Mission Blue - one of the most prominent marine conservation organizations founded by the incredible and inspirational marine biologist Dr. Sylvia Earle. Now you can watch the short documentary (25 min) online for free. The feedback has been great so far, and we hope that many people in the Costa Ballena region, in Costa Rica, and all over the world will watch the lm that addresses how humankind is treating the oceans and marine life. Because the incident back then wasn't a single event, entanglement in lost or abandoned shing gear is often happening, most of the time unnoticed and worldwide. Many gentle giants like whales and smaller animals like dolphins, turtles, or birds get seriously injured or die. We have to change our way of living. Please watch and share the documentary to raise awareness and rethink and change your way of consuming sh, seafood, and meat to save whales and marine life!INITIATIVE - UVITA & SURROUNDINGSAUTHOR: THE VEGAN PIRATES
Page 41
Computer & Cellphone Repair Large variety of Accessories Cristian Hidalgo FonsecaCristian Hidalgo FonsecaTécnico en CelularesTécnico en CelularesWe specialize in APPLEMACBOOKIPAD equipmentNEW LOCATION:100 M SOUTH OF SERVICENTRO BAHÍA BALLENA, NEXT TO AROMA DE CAFÉ RESTAURANTMon to Fri 8 AM - 6 PMSat 8 AM - 2 PMSun closed
Page 42
INITIATIVE - UVITA & SURROUNDINGS42As a German intern living in Costa Ballena in Costa Rica, I knew I had to leave the country around Christmas and New Year to renew my visa. As simple as it sounds, I put a lot of effort into choosing the right location, the perfect spot for me to celebrate these days. After many hours of searching, I nally found it. New York was my chosen destination. 'And why that?' many may ask. It is a city full of people, loud, and it doesn't have the beauty of nature like here in Costa Rica.On the other hand, New York has always piqued my attention for many reasons. The diversity of people there, unique architecture, skyscrapers, and world-known attractions than any other city attracted me. I visited Times Square, the Statue of Liberty, the Empire State Building, Central Park, and more. Especially the Brooklyn Bridge and Washington Square Park, one of the many green areas spread out all over New York, found a place in my heart. As much as I would have liked to explore more, I had to limit my radius, so I spent most of my time in Manhattan. Nevertheless, I made a short trip with the subway to Brooklyn and was impressed by New York's extensive beaches along the coastline in wintertime.What interested me the most as a passionate runner and, in the end, convinced me to visit the city that never sleeps was the discovery of the New Year's run through Central Park. It started right at midnight on the December 31st, 6.5 kilometers, and was denitely one of the best New Year's celebrations I have ever had. Running into 2022 felt like a new start and a perfect resolution for the upcoming year. And while racing with over 2000 other runners, reworks exploded over our heads and gave this race a wonderful glow. Finishing in place 470 out of 2324 participants, I can safely say that my start this year has been successful.After the busy city, I am glad to be back in the tiny town of Uvita in Costa Ballena, living the Pura Vida and having all the wonderful nature and people around me. And I cannot wait for what this year has in store for me, what adventures I will have, what people I will meet, and how much joy this year will bring me. Happy New Year 2022!RUNNING INTO 2022AUTHOR / PHOTOS: CHIARA KOLL
Page 43
Page 44
44HEALTH - OJOCHAL & SURROUNDINGSBahia Ballena DoctorsDra.Mónica AlfaroAUTHOR: DRA. MÓNICA ALFARONON-SURGICAL REJUVENATION OF THE FACEAs time goes by, the face shows many signs of aging like wrinkles, saggy skin, spots, uneven texture and tone, loss of volume in the cheeks, temples, lips, among many others. These are apparent because of the loss of collagen and elastin that serve as structures to the skin. There is also a loss of volume because of bone reabsorption and fat loss. Rejuvenating these areas usually includes injectables like botulinum toxin, dermal llers, and even a facelift. There are, however, other non-invasive, non-surgical treatment options, especially for those who do not want to face treatment that involve needles. These are especially interesting since they allow for a more natural rejuvenation without adding volume or making the face look heaving.Different types of technologies combined in one treatment can address your specic needs regarding rejuvenation. Radiofrequency that increases blood ow to the tissues, oxygenation, and promotes collagen production also tightens the collagen bers already in the skin. It is combined with deep tissue stimulation through sonophoresis and diathermocontraction that also work on tightening the muscles and connective tissue. Whitening products will promote accelerated treatment of hyperpigmentation and photodamaged skin. This effect helps smoothen the area, which will give your face improvements like more denition on the jawline, less jowls, marionette lines, and nasolabial folds. It can also elevate the eyebrows and cheeks, smoothen out ner lines and texture of the skin. Combining this technology with the application of active compounds regenerates the skin by adding vitamins, peptides, and hyaluronic acid, among other components.Other treatment options are microroughness or irregular texture, acne scars, medium to moderate wrinkles, stretch marks, enlarged pores, and skin tightening. This is also an excellent treatment option to tighten the skin on the neck and the chest. It also treats the scalp and strengthens the follicles to avoid more loss.The treatment can be performed on men and women of about 35 years and older. It is safe to be done on all skin types. There is no pain or downtime, making it an easy treatment to schedule since it will not interfere with daily activities. Best results are achieved with a series of treatments. Results are fast and durable, visible for a few years. This treatment is also perfect in combination with botulinum toxin that relaxes the muscles and softens the appearance of dynamic lines.
Page 45
CC Plaza Ventanas (next to the Gas Station)Corporation and Commercial LawResidency and Immigration LawProperty Transfers Vehicle TransfersTestamentsLast WillsUvita CommunityLibrary and Bookstore10:30 AM - 4 PM Saturday: 11 AM - 4:30 PMClosed: Wednesday & Sunday We have a wonderful selection of over 12,000 books, DVDs, a children's and youth section as well as a section with Spanish and a few other languages.Chronic conditonsHypertensionDiabetesEKGSkin check BloodworkPAP smearMinor SurgerySpider Vein SclerotherapyBotulinum toxin Dermal fillersFat graftingPlasmage non-surgical eyelid rejuvenationMicro needling – DermapenPRP – Platelet rich plasmaChemical peels Fractional dermabrasion Providing you with the Quality Healthcare you are looking for+506 8833 6431 General PracticeMedical ae stheticsPl a z a V e n ta n a s – Oj O c h a l d e Os adralfaro@bahiaballenadoctors.com
Page 46
Biological Marine Corridor of Osa Becomes a Hope SpotAUTHOR: FLAVIO GÜELLAccording to the world-renowned organization Mission Blue another recent recognition for Costa Rica's southern zone: the Biological Marine Corridor of Osa, adjacent to the Peninsula, has been deemed worthy of preservation. Dr. Sylvia Earle, legendary oceanographer and Founder of Mission Blue, says, "Costa Rica's Osa Peninsula is widely recognized as one of the most biologically intense areas in the world. The biological marine corridor adjacent to the Osa Peninsula seems like a logical place to safeguard the amazing diversity of life that prospers there."The Hope Spot announcement followed the premiere screening of Innoceana's documentary "Entangled in Costa Rica" —produced in collaboration with The Vegan Pirates. The short lm recounts the team's rescue of a whale and its calf entangled in more than 3 miles of shing lines, 10 kilometers off the coast of the Sirena station in Corcovado.Hope Spots are unique places scientically identied as critical to the ocean's health. Mission Blue Hope Spots are championed by local conservationists whom the organization supports with communication, expeditions, and scientic advisory. For the Biological Marine Corridor of Osa, Innoceana's leaders —Carlos Mallo Molina, Laura Vanopdenbosch, and Yulian Cordero— have been appointed to coordinate actions in the area. Innoceana's purpose is to rewild the ocean through innovation and education. To support this endeavor, the non-prot organization has recently opened its Marine Conservation and Education Center (MCEC), a kilometer north of Ojochal's main entrance . The Center is strategically located to make a positive impact in the world's oceans and protect the recently designated Hope Spot.46 MARINE LIFE - OJOCHAL & SURROUNDINGS
Page 47
The MCEC is an ocean protection research and education hub. Its goal is to raise awareness in the community on topics related to wildlife and sustainability and offer experiences with a purpose. Expeditioners can dive or snorkel in the pristine waters of Costa Rica. They can also get trained in marine conservation and carry out hands-on research and preservation projects such as coral restoration, marine invertebrate inventory, whale monitoring, water quality studies, turtle identication, and more. Their expeditions are focused on giving back to the ocean instead of taking from it. In a world where most tourists do not usually think about the effects of their actions on the ecosystems they visit, the MCEC provides a conscious alternative.The announcement of the Hope Spot and the opening of the MCEC is excellent news for Costa Rica. With the support of Mission Blue, Innoceana's MCEC will serve as a bridge and catalyst to unite organizations, communities, universities, tourists, and other groups for marine conservation actions.
Page 48
It was one of my rst days in Uvita. I looked out of the kitchen window in the morning and saw him. A small, colorful bird oated on a bush covered with owers. Almost as if he were standing in the air. Immediately I knew that it was a hummingbird. Like a small, speedy, elegant diamond, shimmering, fast, and conspicuous, they y through the forests and gardens of Costa Rica. The characteristics I had read about before in all the books and websites matched. Seeing this colorful diamond in the free nature was amazing. 54 of 368 different species live in Costa Rica. But they can be found all over the American continent.They oat through the air like a small, speedy, elegant diamond. These tiny creatures can do far more than impress with their colorful, shimmering, beautiful plumage. They are true body acrobats, able to do the most amazing things with their little bodies. That's probably why I nd them so fascinating! With 60 wing beats per second, they can "stand" in the air and y backward. During their swoops, which they perform for females during courtship, they can reach speeds of between 50 and 95 kilometers per hour. The tiny, inconspicuous hummingbird is one of the fastest vertebrates in the world. No wonder that the heart of the colorful bird is an absolute high-performance machine. The heart beats around 400 to 500 times a minute and supplies the tiny body with sufcient oxygen.Like a small, speedy, elegant diamond, they can be found on bushes and shrubs. The swift creatures are optimally adapted to their environment with their long beaks. The long, thin beak allows them to lick nectar from owers. Many people believe in the myth that hummingbirds suck the nectar as if it was a straw. Matching their rapid lifestyle is their eating behavior. They lick the nectar out of owers 13 times a second. To keep up their high energy levels, they need sufcient food. The little bird has to eat around three times its body weight a day to compensate for the high energy consumption. Not only sweet nectar is on the menu. The hummingbird also eats small insects. They provide essential proteins.His feathers shimmer in all colors. Like a small, speedy, elegant diamond, they immediately catch the eye. When I saw the hummingbird in front of my kitchen window, its feathers shone in a rich iriscident green. But blue, dark red, and brown also prevailed. The different bright colors are mostly created by interference in the hummingbird. Depending on the incidence of light, the color can look different. When light hits the slats on the feathers at a certain angle, the light is reected. By looking at it from different angles, the hummingbird has a wide variety of colors. Every time I see a hummingbird here in Costa Rica, I am delighted. I stop, fascinated, to watch the small, speedy, elegant diamonds of nature.COLORFUL DIAMONDS WITH SUPERPOWERSAUTHOR: LOUISA BAYER WILDLIFE - OJOCHAL & SURROUNDINGS48
Page 49
Page 50
AUTHOR: ALEXANDRA LUTYGoing into a new year might involve reection aboutthe year that just passed and what we hope for in the coming year. For many, this consists of a move to Costa Rica in anticipation of living a better life. Here are a few resolutions that can help with this transition.Slow DownYou have already arrived, so drive slowly with caution through town, especially where there are no sidewalks. Take in the sights while giving yourself plenty of time and space to avoid scaring any pedestrians as you come around blind corners. Take a breath and realize that you don't need to be in a hurry anymore. Pick up TrashTake a bag with you on your morning walk and pick up those beer cans that were tossed out of a car by some careless teens. There is no sense in getting angry about it and not doing anything productive to x the situation. We may not be the culprits, but we can indeed be the change. Be Mindful of NatureWe can't all be perfect and live in perfect harmony with our surroundings because that is not in our nature as humans (at least not yet!) Shining lights all night or playing loud music all day are just two of many ways that humans disturb wildlife. We keep the monkeys away when we let our dogs bark all day. We may have our reasons for doing the things we do; however, let's at least try to consider all of the consequences of our actions instead of choosing the most convenient truth out of willful ignorance. Be Mindful of Neighbors Owning a vacation rental home in Costa Rica can be a great way to subsidize ownership of a tropical house that you only use for part of the year. Renters — especially those staying for the short term — can be noisy neighbors. Plenty of private properties can get away with hosting loud guests who want to enjoy music, but every home in Costa Rica is not ideal for this. Enjoy the Little ThingsDon't expect the world out of Costa Rica. It is, however, a country that has plenty to give if you know where to look. There is so much here that makes it worth not worrying so hard about how long a wait time might be or wondering why your neighbors let their dogs bark all day. Be kind and open a dialogue to retain the sense of peace you came searching for here. By keeping the peace, we can all enjoy the little things more.FIVE NEW YEAR'S RESOLUTIONSREAL ESTATE - OJOCHAL & SURROUNDINGS50
Page 51
51RESTAURANTSOJOCHALRestaurant: Breakfast and Lunch Vegan and Vegetarian OptionsMon. to Sat. 7AM to 5:00 PM - Sunday 7 AM -2 PM PLAZA LOS DELFINES AT OJOCHAL ENTRANCE Creative CuisineMonday - Saturday 11:30 AM - 10 PMSunday ClosedPLAZA TANGARA8729 41152786 5175Wine Bar & Lounge MediterraneanLamb SpecialitiesTHURSDAY - TUESDAY 4-9 PMWEDNESDAY CLOSEDSATURDAY: LIVE MUSIC & LATIN DANCEAVENIDA PRINCIPAL NEXT TO SUPER JUCALOA4701 0110GASTRONOMY - OJOCHAL & SURROUNDINGS2786 5774International Cuisine Sushi - Wine Bar Daily 12 to 9PMCALLE PEREZOSO, 200 M SOUTH OF OJOCHAL2786 5543
Page 52
The Tilapia - La Cascada Restaurant is reinventingitself with a new Administration: The Juan Ulloa and Uvania Zúñiga team, both with extensive experience in hospitality, committed themselves to the challenge of making this enchanted place known. It is one of the last treasures sheltered in the forests of Vergel, a few kilometers from Ojochal. You have to cross a wooden bridge over a stream with transparent waters to get there. Adjacent to the river, you will soon reach the destination: Restaurant Tilapia - La Cascada.We were warmly greeted by Juan, the new host, along with Uvania, who had rigorous training in creative cooking with Chef Marcella from the world-famous Citrus Restaurant in Ojochal. Marcella stands out for her talent for innovation, and Uvania had the opportunity to introduce herself to the art of cooking with this great chef.Juan Ulloa, for years, was commissioned as the "mise en place" at the Heliconia Restaurant near Ojochal. The synergy of both talents is now enhancing this charming destination: Friendliness, smiles, good cuisine in a rural environment.TILAPIA - LA CASCADA DISCOVERING A TREASUREAUTHOR: DAGMAR REINHARDThe atmosphere is magical, well-designed abundant vegetation as part of nature, fresh mountain water ponds with tilapias of different sizes, a beautiful waterfall with three-level wells, and the most incredible thing: the Tree of Life. According to the plate at its feet, this colossal Ceibo is 204 years old, the external roots are taller than ve men, and its height is about 45 meters.Absorbed in such beauty amidst the coolness of the mountains or immersed in a well of bubbling and refreshing waters, the stomach does remember that it is time for lunch! In the kitchen, there is a typical wood stove in use (like the ones used in Costa Rica many decades ago). There are delicatessens such as the three-cheese tenderloin, the cutlet in apple sauce, snapper in spicy green sauce, ceviche, and shrimp. Of course, the whole crunchy Tilapia with a garnish of crispy patacones and salad will always occupy the rst place in the new menu that the Tilapia - La Cascada Restaurant has just created.The dishes are all fresh and beautifully decorated with edible owers. They are served on the open terrace next to the tilapia ponds. The bar is well-stocked with beer and wine. Be sure to try the homemade kombucha! The river passes under the gallery while you will enjoy your delicious lunch, natural and of the day in the middle of nature. The innate friendliness of the local people will make you feel very welcome. Take advantage and disconnect for a day; there is no internet in the mountains, how delicious!Reservations for Groups; two days before: 8-10 am Whatsapp; Uvania 8443 882952GASTRONOMY - OJOCHAL & SURROUNDINGS
Page 53
RESTAURANTSOJOCHALDaily 11 AM to 9 PMClosed MondayCALLE VERGEL, 3 KM SOUTH OF OJOCHAL8443 8829GASTRONOMY - OJOCHAL & SURROUNDINGSLunch & Dinner 6026 7801Seafood - Casados - PastasFresh Tuna Daily 11 - 8 or Reserve for dinnerBETWEEN UVITA & OJOCHAL KM 1702786 53808390 0130FRIDAY TO MONDAY 12PM TO 9PM www.almacr.cominfo@almacr.comthebambooroom@outlook.comWhatsApp 506 8380 5353RESERVATIONS RECOMMENDEDGreat Vibes Sunset & Ocean ViewsAwesome FoodOJOCHAL@info@almacr.comwww.almacr.com
Page 54
AUTHOR: WENDY SEGURA CALDERÓN54CULTURE - OJOCHAL & SURROUNDINGSARCHAEOLOGICAL DISCOVERYTwo pre-Columbian spheres are the rst nd of an important archaeological monument.• The sphere found this week measures about 1.20 meters and is 5.7 meters from the rst.• Both are on a driveway that leads to a mound, possibly the base of a house.On December 15, a team led by the archaeologist from the National Museum Francisco Corrales found a pre-Columbian stone sphere placed in its original site. It is at Finca 12, in Palmar Sur de Osa, very close to another one reported last July by farmworkers.The spheres are placed in the corner of a ramp. It leads to a possible mound with a stone structure that might have been the base of a house."These types of ndings are essential to understand better the societies that inhabited the Delta del Diquís, and that manufactured the stone spheres," explained Francisco.This sphere measures about 1.20 meters and is at a distance of 5.7 meters from the rst one found in July of this year, which measures 1.23 meters."We are very fortunate to be able to nd two spheres in one year," said Francisco. According to research, they correspond to the entrance of a house. Each one is located in the corner of the access ramp to it. "They are similar in size, which reinforces a pattern previously found in other archaeological sites in the area, which makes to think that important people lived in these houses," he added.Corrales explained that they would not remove them; on the contrary, we intend to carry out more in-depth investigations. Since this may be a signicant archaeological monument associated with Finca 6, one of the four sites declared World Heritage by UNESCO.Before these two spheres, the most recent one found had been in 2007 at the Finca 6 site, during investigations carried out by the archaeologist Adrián Badilla. Coincidentally with this nding, that sphere was also at the end of an access ramp to a house. It is associated with another very similar and close to it.The pre-Columbian spheres have been the national symbol of Costa Rica since 2014, the same year that four chiefdom settlements with stone spheres from the Diquís were declared World Heritage by UNESCO. INCLUIR LOGOS Hallazgo arqueológico Archaeological Discovery Author Wendy Segura Calderón Prensa Museo Nacional de Costa Rica Category Culture Photos + Video Yes Dos esferas precolombinas son el primer hallazgo de un importante monumento arqueológico • La esfera hallada el 15 de diciembre del 2021 mide cerca de 1.20 metros y se encuentra a 5.7 metros de la primera descubierta en julio del mismo año. • Ambas están sobre una calzada que conduce a un montículo, posiblemente la base de una vivienda. La tarde de ese día, un equipo liderado por el arqueólogo del Museo Nacional Francisco Corrales, encontró una esfera de piedra precolombina colocada en su sitio original. Está en Two pre-Columbian spheres are the first find of an important archaeological monument. • The sphere found this week measures about 1.20 meters and is 5.7 meters from the first. • Both are on a driveway that leads to a mound, possibly the base of a house. On December 15, a team led by the archaeologist from the National Museum Francisco Corrales found a pre-Columbian stone sphere placed in its original site. It is at Finca 12, in Palmar Sur de Osa, very close to another one reported last July by farmworkers.
Page 55
AKKA INSTITUTE" V I V E L A E X P E R I E N C I A A K K A "WEEKLY CLASSESCLASES SEMANALESHOUSINGALOJAMIENTORETREATSRETIROSWWORKSHOPSTALLERESSPASPABOUTIQUETIENDAYOGA . MARTIAL ARTS . SOUND HEALINGHELLO@AKKACOSTARICA.COM +506 8447–8237 CALLE SOLUNA, OJOCHALWWW.AKKAINSTITUTE.COMMOODDEporteVenta y alquiler de material deportivoVenta y alquiler de material deportivoOrganizacion de actividades deportivasOrganizacion de actividades deportivasSale and rental of sports equipmentSale and rental of sports equipmentOrganization of sports activitiesOrganization of sports activities ADVERTISE WITH USSOUTH PACIFIC NEXT Marchth 2022Deadline: February 15th
Page 56
Happy New Year from Fish Drake Bay!AUTHOR: CAPTAIN WILLY ATENCIOSPORTS - OJOCHAL & SURROUNDINGSIf one of your New Year's resolutions includes spending more time on the water and catching sh, we are the place to go. We have been on the water virtually every day since the beginning of December, and shing has been very productive. The Mahi-Mahi or Dorado have been plentiful and close to shore in the last couple of months. During the rainy season, logs, palm fronds, and leaves wash into the ocean and form a weed line. The currents hold the weed line together, and smaller sh and baitsh hide under this line. The Mahi love nothing more than to nd a quick and plentiful meal along the weed line. As captain, it's my job to skillfully maneuver the boat where the outriggers pull our lures right along the weed line. After 20+ years of experience, I have developed an expertise and passion for this type of shing.In addition to a great Mahi bite, we are catching Yellow-Fin Tuna offshore, and Sailsh are beginning to show up. We expect a very good Sailsh bite in the rst four months of the year. If you have caught Sailsh before in Florida, this is not the same animal. The Pacic Sailsh we catch typically ranges from 100 to 150 pounds! These beauties are a blast to catch as they jump all the way alongside the boat. Our mates will skillfully keep the sh in the water while we take a quick photo or video. Once the picture is taken, we carefully remove the circle hook, make sure the sh is healthy and let her live to ght another day.Inshore or near shore, we have had a perfect Roostersh bite. Drake Bay is one of the best places in the world to catch a Roostersh. Because of our lack of shing pressure, a plentiful supply of bait, and our catch and release policy, we are one of the best places in the world to catch these incredible sh. Living in the same neighborhood as the Roostersh, we have big Cubera Snapper and several species of Grouper. The exciting part about shing in our waters is you never know what you might catch.We have two boats to choose from and offer full or half-day trips. I would encourage you to read our numerous reviews on TripAdvisor and why we are rated #1 for all tours in Drake Bay. I look forward to shing with you!56
Page 57
www.FishDrakeBay.com Come fish with us in Drake Bay with one of the best captains in Costa Rica. We are located on the northern end of the world famous Corcovado National Park, literally where the road ends. Captain Willy will take you to his favorite spots to catch grouper, snapper, roosterfish, wahoo, tuna, mahi mahi, sailfish and marlin. Pack your cooler to bring your fresh catch home. We welcome all fishermen including children. We have 2 boats to choose from, the Reel Escape- a 35ft Cabo Yacht and the Reel Time- a 26ft walkaround center console. Check us out on Trip Advisorwe are rated the #1 tour in Drake Bay. info@FishDrakeBay.com
Page 58
www.osatropicalproperties.comsouth pacific costa rica's real estate expertsvisit us on our social media channels@OSATROPICALPROPERTIES3.47 acre private luxuryocean view lot IN escaleras$2,900,000 | ID # 8085
Page 59
WE ARE A REAL ESTATE COMPANY WITH A PURPOSEOur goal is to help you love where you live. Costa Rica's South Pacific coast — where the mountains meet the sea and vibrant greens and blues collide — may hold the property of your dreams. working with a trusted local agent is your key to finding out. Our office has a fifteen year tradition of great service in Ojochal, Uvita, and Dominical. Let us help you discov-er your new home in Costa Rica. Contact our office to have all of your questions answered today.ECO LODGE CABINAS BUSINESS WITH RIVER AND TILAPIA POND4 BEDROOMS | ECO-HOTEL | OJOCHAL | $619,000 | ID: 8082high elevation home in a quiet region with huge views3 BEDROOMS | HOUSE | BALSAR | $385,000 | ID: 4345STYLISH LUXURY MODERN NEW HOME3 BEDROOMS | OJOCHAL | $1,200,000 | ID: 5332TRANQUIL HOME IN DESIRABLE LOCATION3 BEDROOMS | OJOCHAL | $475,000 | ID: 5311CENTRAL FAMILY HOME WITH POOL3 BEDROOMS | OJOCHAL | $349,900 | ID: 5739LARGE SITE WITH OUTSTANDING SUNSET0.85 ACRES | OJOCHAL | $265,000 | ID: 9557LARGE LOT WITH WIDE OCEAN VIEW0.61 ACRES | CHONTALES | $89,000 | ID: 4179CHARMING LOT IN A QUIET AREA0.23 ACRES | OJOCHAL | $39,500 | ID: 4714discover yourself in costa ballenawww.osatropicalproperties.com+506 2786 5500
Page 60
Richard OwensRealtorKatherine ApseyRealtorRebecca RowntreeRealtorKevin ChampagneBrokerMarcia OroRealtorMark SavoiaRealtorNelly ReusseRealtorLocal experts with global reach at Osa Tropical Properties Our oce is located in Ojochal, Costa RicaContact our team of expert realtors to buy or sell property inDominical, Uvita, Ojochal, Tres Rios, and Chontalessales@osatropicalproperties.comwww.osatropicalproperties.com+506 2786 5500@osatropicalpropertiesPRIME LAND IN GROWING DEVELOPMENT OF CHONTALES$165,000 | ID # 5735Sign up to our popular weekly newsletter by scanning this QR code